Diaspora Talks & Performances throughout the Exhibition to June 8th: details here
Talks & Performances throughout 3 Harbours Festival -

THE SCOTTISH DIASPORA TAPESTRY PROGRAMME

A series of talks and performances will take place throughout the 3 Harbours Festival week at Prestonpans Community Centre.

These are drop-in events so no booking is required.

There is no admission fee unless otherwise indicated. All Donations will go to the 3 Harbours Arts Festival and the Prestoungrange Arts Festival.

Prestonpans Community Centre
Preston Road, Prestonpans, EH32 9QS

Enquiries: yvonne@3harbours.co.uk
www.3harbours.co.uk
www.scottishdiasporatapestry.org
www.scottishdiasporatapestrygaelic.org

Sunday 1 JUNE

13.00
SONSIE SANGS

This acapella duo will sing a variety of sea shanties from Scotland and around Britain. These working songs were commonly sung to accompany labour on board large merchant ships.

14.00
ANA FILOGONIO

Ana is one of the stitchers of the Scottish Diaspora Tapestry. Her panel celebrates Brazil´s greatest poet, Carlos Drummond de Andrade. Ana who lives in Prestonpans with her husband Tulio and twins, Daniel and Aidee, comes from Drummond´s home state of Minas Gerais. Trained as a classical/opera singer (Mezzo-soprano) in Brazil, she was also a member of a choir in Brazil. In Scotland she became a member of the Edinburgh Royal Choral Union and has sung at St Mary's Cathedral Choir. A delightful afternoon programme which goes through Opera to Musical and from Scottish to Brazilian songs.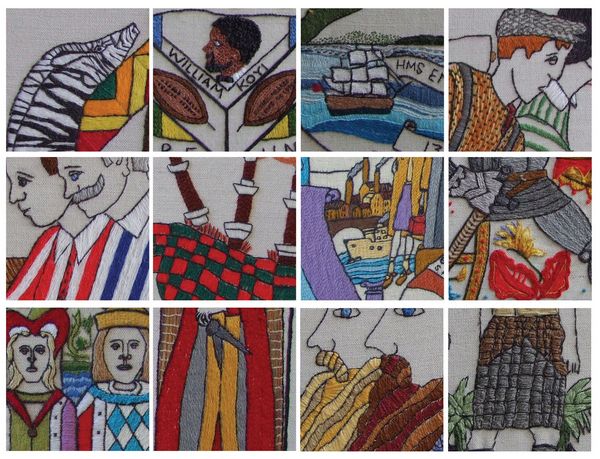 15.00
ANDREW CRUMMY

A CELEBRATION OF THE STITCHING OF THE DIASPORA TAPESTRY
Designer of the Battle of Prestonpans Tapestry [2010] and the Great Tapestry of Scotland [2013] talks about his most recent project, the Scottish Diaspora Tapestry, premiered this week.

Monday 2 JUNE

13.00
KLEYNE KLEZMER

Incidental music

Tuesday 3 JUNE

14.00
DR GORDON PRESTOUNGRANGE

SHOWING THE TAPESTRY TO THE DIASPORA 2015/ 2016 -
THE TOURING WE PLAN TO ACHIEVE, WITH YOUR HELP! Gordon Prestoungrange outlines and discusses emerging plans for exhibiting the Diaspora Tapestry in as many of the contributing countries as possible in 2015/ 2016. Clearly 'local' support will be needed wherever it goes. All interested in helping please come along!

Wednesday 4 June

12.30
ROSEMARY FARMER

LIFE ON THE BENDIGO AND GABRIEL'S GULLY GOLDFIELDS FROM 1853. Rosemary Farmer will talk about the adventures of her great ,great grandparents William and Mary Ann Hay and their nine children as they followed the Gold from Australia to New Zealand and the life that they made for themselves. Quotations from Mary Ann's memoirs and also her son Richard Edward's tales of his childhood and life on the Otago Goldfields in the 1800s. Rosemary stitched both the Bendigo and the Gabriel's Gully panels for the Scottish Diaspora Tapestry and earlier worked on the Prestonpans Tapestry.

13.30
THREADS OF OUR PAST: from PRESTONPANS SCHOOLS

To commemorate the Commonwealth Games 2014, young people from Prestonpans Infants, Prestonpans Primary, St. Gabriel's and Preston Lodge High schools weave together the threads of their own family history, and present them in story and song. This project has been supported by a grant from the Big Lottery Commonwealth Games 'Celebrate' fund and Prestoungrange Arts Festival.

Come along and enjoy this performance, which is the result of months of workshops and family research by the pupils of these schools. Prepare to be delighted by the talent of the Prestonpans schoolchildren as they sing and tell their own diaspora stories and connections to the Commonwealth.

Thursday 5 June

12.30
ARRAN JOHNSTON

JACOBITES IN THE SCOTTISH DIASPORA TAPESTRY - The Prestonpans Tapestry tells the story of the Jacobites' victory at Prestonpans, the high water mark of their cause, and now the new Scottish Diaspora Tapestry reveals what happened to some of them after that cause ultimately failed. Join historian Arran Johnston as he explores some of the fascinating Jacobite stories contained within the Tapestry.

13.30
IAN LEITH

THE MEN WHO WENT FAR FAR AWAY - Patagonia is a long way from Caithness, both physically and mentally. Apart from the wide horizons shared by both lands, there is literally a world of distance between the two. Yet in the late 19th century a number of Caithness people took on the challenge of Patagonia. In Patagonia they would find endless horizons, harsh weather and little if anything in the way of home comforts. Whatever their lifestyles at home in Caithness amounted to, what greeted them in Patagonia must have been well beyond their knowledge or imaginings.

14.30
DR. JACK THOMPSON

FROM DAVID LIVINGSTONE TO JACK MCCONNELL: ONE HUNDRED AND FIFTY YEARS OF SCOTLAND'S CONNECTION WITH MALAWI - Dr. Jack Thompson, historian of Malawi and Honorary Fellow of the University of Edinburgh will outline the main highlights of Scotland's relations with Malawi, including Livingstone's 'discovery' of Lake Nyasa, the work of early Scottish missionaries at Livingstonia and Blantyre, Scotland's part in the fight against the Central African Federation in the 1950s and recent partnerships between Scotland and Malawi in the last ten years.

Saturday 7 June

11.00
RITA BRADD

AH'LL CHUM YE HAME - Writer Rita Bradd talks of her epic seventy-day adventure on-board a heavy-lift cargo ship that touched four Continents taking the 150 year-old clipper ship 'City of Adelaide' back to her namesake City in Australia. Come and hear about how she was drawn into the diasporic web woven from one side of the planet to the other.

14.00
SIR GEOFF PALMER

SCOTTISH - WEST INDIAN HISTORICAL CONNECTIONS - Sir Geoff Palmer is a Professor Emeritus in the School of Life Sciences at Heriot-Watt University in Edinburgh. He has not only stitched two of the panels for Jamaica, having never stitched before in his life, but he has been an integral part of the process from research to design. Don't miss this opportunity to hear Geoff speak about the historical connections between the West Indies and Scotland.

15.45 – 17.00
THREE WOMEN

PiHeid Productions proudly brings you the award-winning play, Three Women, written and directed by Fatima Uygun. Set in a shopping centre in an ex-mining village in Scotland, Fatima Uygun's darkly comic play tells the story of three elderly women who meet weekly to indulge in their favourite pastimes of gossip, reminiscing and shoplifting.
(Note: This play contains explicit language)Admission: £8 per ticket, £5 concession payable at the door.

Sunday 8 June

15.30
ANDREW CRUMMY

CONSTRUCTING AND DRAWING THE SCOTTISH DIASPORA TAPESTRY -
Designer of the Battle of Prestonpans tapestry and the Great Tapestry of Scotland talks about his most recent project, the Scottish Diaspora Tapestry, which has been premiered all week at the Community Centre.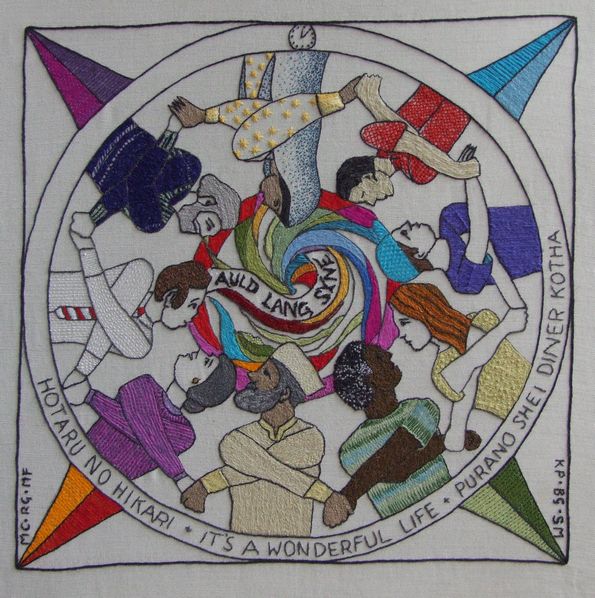 Published Date: May 26th 2014