Barons Courts Sit Once Again
BARON BAILLIE PRESIDES AT COURTS

The Common Baron Baillie of Prestoungrange & of Dolphinstoun, Mathew Wills Yr of Prestoungrange, presided at a further meeting of the Barons Courts on November 16th 2004 that attended to a range of issues arising from the July Sittings. These further Proceedings can be reviewed at the links below [and at Prestoungrange University Press reference B. 109.]

Click on image to enlarge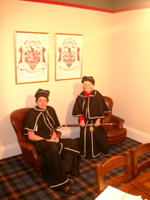 Dignity of Baron after the Appointed Day

The legalistic controversy surrounding the meaning of the "dignity of baron" that the Act saves after the abolition of feudal judicial and land rights on November 28th 2004 was determined in a further landmark judgement [known as The Savings Clause Judgement]. The Crown Baronial Charter issued by the Courts July 27th 2004 shall in particular provide the framework locally.

Witches Hallowe'en Remembrance and Fowler's Ales

Following the much appreciated Pardon to 81 Witches in July and the first annual remembrance ceremony led by Roy Pugh at The Prestoungrange Gothenburg, the Courts reaffirmed October 31st, Hallowe'en, to be the day for future remembrances. The pardons and the subsequent global press coverage were deemed to have given 'sufficient comfort' to their descendants to make any further appeal to HM The Queen for Her Pardon in respect of the treasonable aspects of the convictions unnecessary.

The directors of Fowler's Ales [Prestoungrange] Limited also made further Declarator concerning the outcome of their dialogue with BrewBrand SA which still brews Fowler's Wee Heavy. The microbrewers have agreed to accept a Licence Agreement for 'use of the name' in return for a royalty - which BrewBrand SA has in its turn graciously agreed shall be donated to the Prestoungrange Arts Festival.

Commissions of Bailiary and Complains

Tony Gillingham and Sylvia Burgess took the oath de fideli adminstratione as Barons Bailies and the Courts finalised the Compleat Discharge from feu duties in respect of additional baronial dominum directum on the borders of the Royal Musselburgh Golf Club/ Prestongrange Road.

Final judgements re Complains first determined in July were also given.
Published Date: November 16th 2004