EH32 Area Auditions for Actors and Hands February 28th/ 29th/ March 1st
Andrew Dallmeyer is Auditioning All 'Potential and 'Actual' Amateur Dramatics Talent which loves EH32 and is ready willing and able to act, sing and/ or help backstage ..

click to enlarge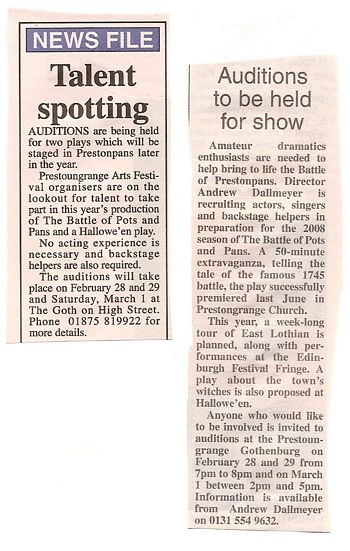 Helpers of all hues are required for the 2008 season of The Battle of Pots and Pans in particular [but also for the Witch Play at Hallowe'en 2008.]

The Battle play is a 50 minute acting and singing extravaganza premiered last June in Prestongrange Church. It will again be performed there on September 18th but well before that performance the play is to tour in East Lothian during a week of evenings in May .... and go to the Edinburgh Festival in August! Don't worry about the work load .. under-studies will be present no doubt!

NO PREVIOUS EXPERIENCE NECESSARY ...
JUST A WILLING DISPOSITION!
BUT IF YOU ARE EXPERIENCED PLEASE KNOW YOU TOO ARE MOST WELCOME ...

Any and everyone who is interested please come along to the Prestoungrange Gothenburg to meet Andrew Dallmeyer on the dates below. All earlier queries either to Andrew Dallmeyer himself on 0131 554 9632 direct or to Gillian Hart/ Kristine Cunningham/ Anne Taylor of The Arts Festival on 01875 819922. The formal dates at the Prestoungrange Gothenburg are

THURSDAY 28th & FRIDAY 29th FEBRUARY - between 7pm and 9pm

SATURDAY 1st MARCH - between 2pm and 5pm.

N.B. If these dates are frankly impossible be sure to phone and tell us of your interest.

The highlighted text here takes you to the Battle of Pots and Pans script ... and to the reviews of the premiere in June 2007.




Published Date: January 31st 2008