Five New Murals Commissioned for The Pans
Belfield Car Park and Sam Burns and More yet ...

A £20,000+ Gothenburg/ Arts Festival Charity Grant is driving the 2007 sequence of mural painting in The Pans. It's proceeding quietly although in at least two cases you cannot help but notice without going searching! The two in question are the work of Andrew Crummy at the Prestoungrange Gothenburg Car Park and at Sam Burns' Yard.

The first is the beginning of a further cycle of beautification so to speak for the car park and is a route map to the murals and also to several other art treasures in town. The Prestoungrange totem pole continues to attract hundreds of visitors every week and indwellers will be 'pleased' to know that the second Chemainus pole is ready for artistic creation in the coming months.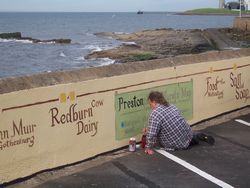 Sam Burns' new mural of course depicts three generations that have enthralled the town as well as building the finest collection of Prestonpans Pottery any of us has! It celebrates their new gates.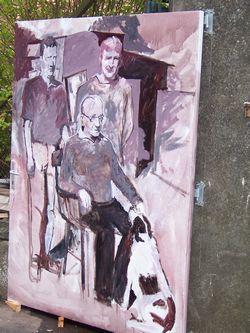 Only a wee bit less obvious is 2006 and 2007 cow painter Tom Ewing's new mural at Prestongrange Bowling Club; but his second focussing on Summerlee is still on the drawing board.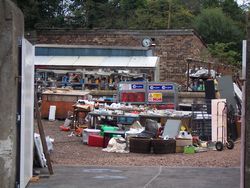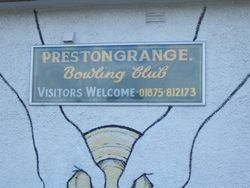 The fifth mural, which will be many faceted, is about to blossom at Prestonpans for Tranent railway station and the artist is none other than fellow 2006 cow painter Adele Conn who created the Redburn Dairy Mural and assisted with Kate Hunter on The Gothenburg Mural in 2003.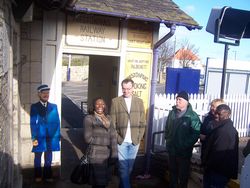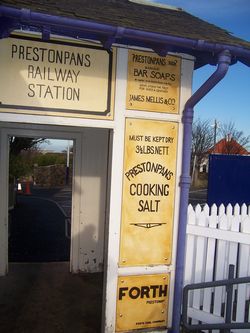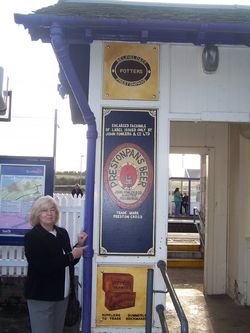 Comments, wise or just amusing, are always welcomed by the muralists as well as any memorabilia you might have that relate to the themes. [In the press cutting below Scott Angus of the East Lothian Courier attempts his hand at humour!]



Published Date: October 2nd 2007