Willie Park Fund established for Cuthill 'Golf' Youngsters at Royal Musselburgh
Royal Musselburgh and Local Residents Launch Youngsters Golf Practice Scheme

A Prestoungrange Arts Festival/ Gothenburg Grant of £5250 over three years will now enable John Henderson, the Professional at the RMGC, with colleague Callum Smith, to provide practice facilities for local Cuthill area youngsters. It has been made at the specific request of the 'Friends of Cuthill Park' Action Group.

click to enlarge and print out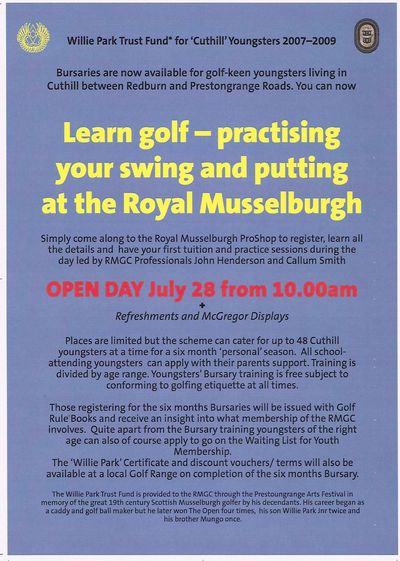 John Henderson commented: "We have long offered a golfing programme for Young Members paying £90 pa with coaching included. But naturally enough there is a considerable Waiting List and the annual subscription can also be an obstacle for some. This approach goes some way to filling the gap and we are delighted to take it on board."

This Grant, which will be known as The Willie Park Fund, after perhaps the Club's most famous member, is designed for young beginners who are keen to practise hitting a golf ball. At agreed times, under professional supervision and with all the necessary self discipline, that opportunity will be provided. All young beginners need to do to get enrolled is to call at The Pro Shop at the RMGC and give their name, address and phone/ email.

The scheme is initially focussed on young Cuthill area beginners between Prestongrange and Redburn Roads. Each household there will be receiving a flyer in the coming weeks. The scheme will be formally launched on Saturday July 28th at the RMGC with Day Sponsorship coming from McGregor displays and others. Parents as well as the youngsters will be welcomed.

Existing Young Members of the RMGC will be encouraged to bring along local friends of their own as well, and descendants of Willie Park have been invited, including Sheila and Archie Baird from Gullane - Sheila is the great grand daughter of Willie Park. The Baron of Prestoungrange, himself also descended from Willie Park's sister Grace commented: "It is brilliant to see such high standard coaching and advice offered to the Cuthill community where my wife and I are now personally resident. Giving young beginners formal guidance and self discipline and showing them where else they can safely continue to perfect their strokes, gives them the best opportunity to become Young Members in due course".

"It is not only the Royal Musselburgh who are good neighbours to Cuthill residents. Prestongrange Bowling Club also offers great encouragement for youngsters as well".

EDITOR'S NOTE
Willie Park was a local Musselburgh lad who began his career as a caddy and golf ball maker and became a legend in his lifetime. He won the Open the first time it was competed for in 1860. He went on to win it three further times in 1863, 1866 and 1875. His brother Mungo won in 1874. Then Willie Park Junior followed in his father's footsteps to win twice in 1887 and 1889.


Published Date: June 19th 2007