Arbroath Tapestry goes on display designed by Andrew Crummy
Marie Sharp reported first in East Lothian Courier

… A new tapestry designed by artist Andrew Crummy to mark the 700th anniversary of the Declaration of Arbroath has taken an even greater role after public celebrations were cancelled due to coronavirus. Andrew of course designed our Scottish Diaspora and Battle of Prestonpans Tapestries. He originally created the Arbroath Tapestry design two years ago.

Now, after nearly 2,000 hours of needlework by teams in Angus led by Arbroath-based Linda Walker, it has been framed in a stunning three panel casing made from oak dating back 700 years which was taken from Robert the Bruce's estate.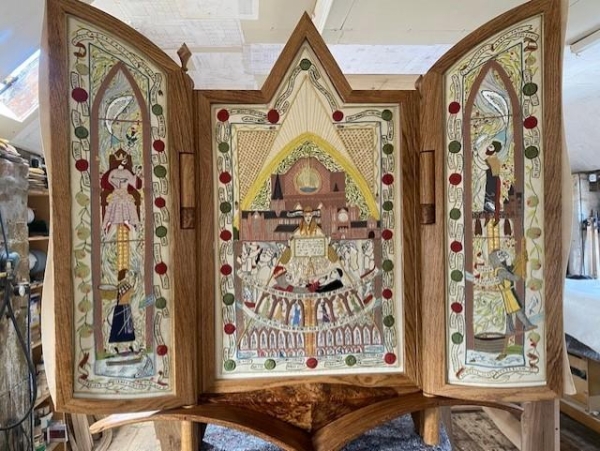 The finished tapestry features in a documentary video released online to mark the anniversary on Monday, which features actor Brian Cox reciting part of the declaration and explores its impact on Scotland. The documentary also features work by East Lothian artist Andrew Hillhouse, from Cockenzie, who passed away in 2018.

The video was released on time and shows the finished tapestry in its display case which will go on display at Arbroath Abbey. MORE DETAILS ARE LINKED HERE

Andrew Crummy said: "I'm delighted to see how a small idea which was originated with Linda Walker in Arbroath, has grown to this and made such a huge impact already, even before it goes into the new visitors centre at Arbroath Abbey.

"It has been a privilege, like all the tapestries to work with amazing stitchers. Without them their craft, creativity and generosity there would be no tapestries."

The central panel portrays Robert the Bruce and Abbot Bernard of Arbroath writing the Declaration while the two smaller panels represent the role and influence of the Abbey within Arbroath.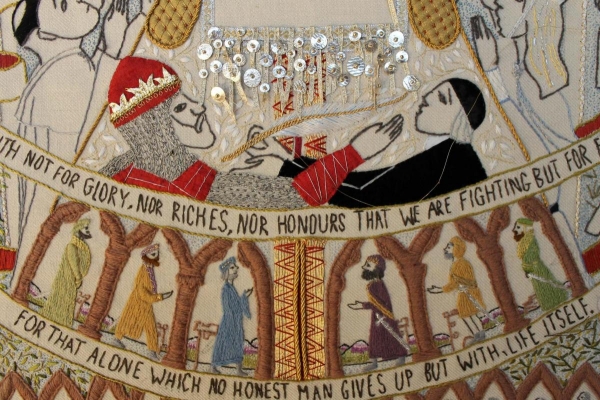 The left panel features William I, founder of the Abbey, along with a fisherwoman to reflect the importance of local fishing industry.

The right panel represents the many trades which were involved in building and maintaining the Abbey and depicts two Scottish nobles setting sail to deliver the Declaration to Avignon.

The Declaration of Arbroath was a letter sent from Scotland's nobles to Pope John in Avignon on April 6, 1320. Widely acknowledged as one of Scotland's most important documents, the 700th anniversary of the Declaration of Arbroath has inspired Arbroath 2020, a highly impressive six-month programme of special events. Current plans will see them postponed till 2021.



Published Date: April 9th 2020