Callington in Cornwall Remembers Much
Callington's Cattle Market and Tin Mines Close

Like so many murals towns around the world, Callington's traditional economic bases in cattle markets and tin mining had both declined by the mid 1960s. A Cornish town which until 1832 boasted two rotten borough MPs, it had to think hard and work hard to create its future. Tourism has always had a strong appeal throughout Cornwall since its climate is always so much milder. The Railway Age had conceived and marketed the ancient Royal Duchy as the Cornish Riviera. And in 2005 HRH Prince Charles, Duke of Cornwall's wife Camilla has adopted the style and title of HRH The Duchess of Cornwall.

But Callington got started in murals by chance, when a Town Councillor himself decided to paint the first on a derelict property. Nobody had heard of Chemainus, it simply seemed a good idea. And there was no master plan to attract tourists. Today the town's Mayor, Jeremy Gist, and Town Clerk Lynda Small, proudly talk visitors through their portfolio of 17 pieces of public art and their plans for three additional murals in the coming year. The town publishes its 'Mural Trail' as shown below.

Click on all images to enlarge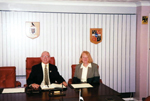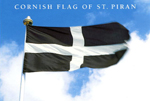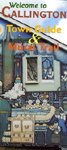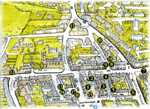 Callington Keen To Learn From Others Experience

The public officials at Callington who have, unusually, themselves masterminded and supported the creation of murals, were certainly most keen to join the Global Association and to benefit from meeting the very large community of muralists and economic developers involved therein. They had not realised just how much advice was so readily available from the rudiments of wall preparation to paint selection and useage. They were all too aware of the challenge of ongoing maintenance and of ensuring that development did not sacrifice good public art or parking obsure it.

Yet notwithstanding the town's confessed lack of contact with global mainstream historical muralism, their portfolio includes all the highlights to be hoped for. Youngsters have created an excellent Undersea World mural in Biscombe's Lane archway. Fenestration is well used and numerous vignettes appear unexpectedly yet delightfully as one walks the trail. Especially exciting perhaps is the Secret Pasty Factory which folklore has it was created underground by Isambard Kingdom Brunel - the engineering genius who built the Great Western Railway in the 19th Century.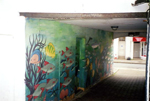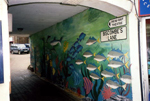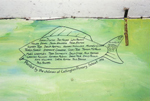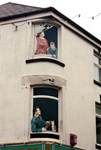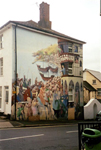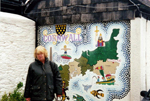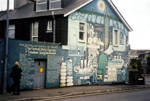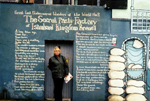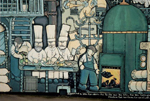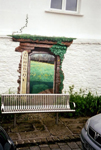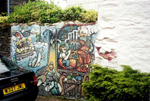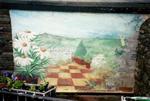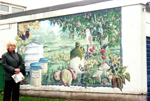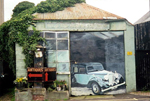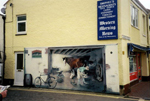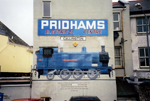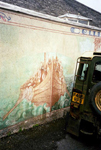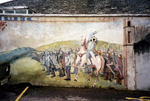 Inside the Town Hall itself a major mural depicts the ancient town street and Pear Tree Bungalows have Celtic Knot work in the rendering of their garden wall.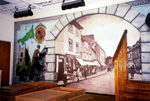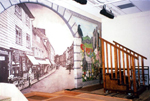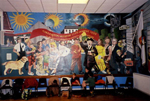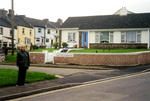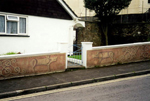 Cornish Beam Engines are well familiar in Prestonpans

It was a happy coincidence visiting Callington to be able to see evidence of the bygone era of tin mining. The most spectacular monument is Kit Hill donated by HRH The Duke of Cornwall, Prince Charles, to the people of Cornwall to celebrate the birth of Prince William his elder son. Atop the hill stands the old mining stack and endless opportunities for walking. Beneath the hill centuries of mining activity have taken place, and in almost every recent instance a beam engine was needed to pump out the water that would otherwise flood the mines. It was just one such then redundant 19th Century Cornish beam engine that made its way by sea via Morrison's Haven to Prestongrange coal mines and for 75 more years pumped the waters there until the middle of the 20th Century. At Prestongrange Industrial Heritage Museum that Cornish beam engine still stands proud even if unworked for nearly 50 years; and Jim Corsiter has painted a fine mural close by as shown below.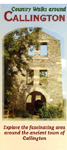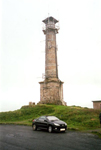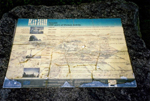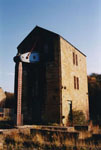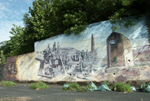 Callington's Famous Pies

If Corwall is famous as an historic centre for tin mining it also has its own particular gastronomic delight in the world renowned Cornish Pasty. Brunel's Secret Factory apart, the largest employer in Callington today makes the finest Cornish Pasties you could ever hope to taste - Ginster's. And they have a rightful place on the Bistro menu at The Prestoungrange Gothenburg both as a fine repast and to honour the contribution that the second hand Cornish tin mine beam engine made for so long to the town's coal mining history.
Published Date: May 3rd 2005