Here's a surprise ... and we thought the Miners' Sculpture was top priority!
Art Moves - in Mysterious Ways

Congratulations are very much in order to Stewart Milne Homes at the new Athena housing develoment south of the Royal Musselburgh Golf Club. As they put it, the sculpture "is part of a bid to increase the amount of public art in Prestonpans". Can only say Bravo to that.

Andy Scott, the sculptor, is known and much-admired for his Heavy Horse on the M8. Now his first permanent work to feature in the east of the country has been unveiled in The Pans.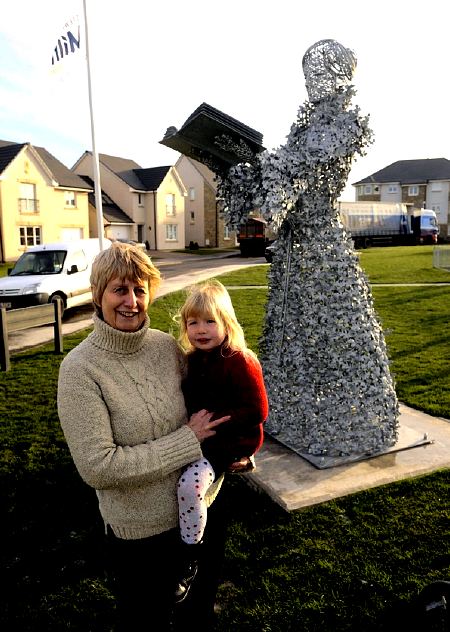 This report comes from Edinburgh Evening News: December 8th

The thus far un-named piece of public art was designed to commemorate 81 residents of the town who were executed for witchcraft in the 16th century, though it represents "a proud and dignified woman" rather than a victim.

Carol Irvine, who lives in Dolphingstone Way overlooking the sculpture said: "I think it's lovely. It just makes it a bit different when you come into our street to see a sculpture there. It's very nice with the sun on it, and of course it goes right through it as well."

Scott, who is based in Glasgow, was commissioned to create the three-metre high figure as a centrepiece for the Athena Grange housing development three years ago. His finished woman is clothed in costume of the period and reading from a book, all made of steel leaves similar.

It was also designed to tie in with the name of the development, which incorporates elements of the Greek goddess Athena.

"I did a bit of historic research on Prestonpans and found a number of ladies – and men as it turned out – were unfortunately accused of witchcraft and met a rather grisly end. I thought it would be nice to give them a dignified commemoration.

[Comprehensive history by Anne-Marie Allen for the community is on the website at R21 as you LINK HERE]

"Once I got started on it I thought it would be more appropriate to render it in a contemporary way and give them an element of dignity.

"I went off in another direction too, in that the developer decided to go with Athena Grove, and as Athena was the goddess of wisdom I thought it tied in nicely as well.

"I hope that even if people don't pick up on things I invested in the sculptures, they'll be able to appreciate a beautifully-made object." [Ed. Needs a panel please in explanation!]

Keen to tie in the new with the town's deep rooted heritage

Marlyn Boal, the company's sales director for central Scotland, said the sculpture created a "stunning entrance to the development" and "really brings the space to life".

"We have always been keen to tie the new area with the town's deep-rooted heritage. This iconic monument not only provides a beautiful spectacle at the heart of the development, but a firm link with its location.

"The piece may not yet be named, but she has already inspired Athena Grange residents and the Prestonpans community to become quite a talking point."
_______________________________________________________________

[Ed.] Being perhaps a wee bit churlish, the community's adopted priority for sculpture is presently to commemorate our miners and their families! So it was a pity more thought was not given to that or to making contact with the hundreds of townspeople who have been involved in the 81 Witches Remembrance each year since they were Pardoned in 2004. But full marks for a great piece of art and a fine addition to the town's public art portfolio.

For full details of the town's many witch related remembrances LINK HERE


Published Date: December 8th 2011