Annual Remembrance of Prestonpans 81 Witches
Roy Pugh's Trilogy of Plays begins its 2nd Cycle

Following the pardonning of Prestonpans 81 Witches in 2004, Roy Pugh was invited to write a trilogy of plays in their remembrance. His oeuvre was completed last year with the third play, The Deil's Craft, so 2008 saw the re-presentation of the first, Witch. It was originally presented in 2005 by Port Seton's Dramatic Society. This second time the Prestoungrange Players directed by Andrew Dallmeyer, have been responsible.

More than a hundred were in audiences at The Gothenburg's elegant Thomas Nelson Suite for the three performances which saw local actors Kelly Ross and Coreen Scott as the two who were found guilty and strangled and burnt.

click on cuttings to enlarge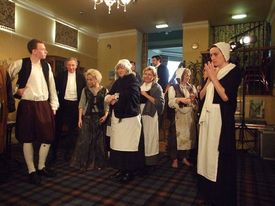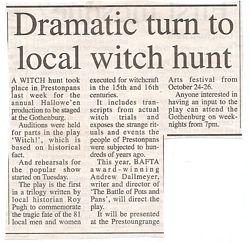 The Sunday matinee saw the now traditional laying of herbs at the Witches Wall in the Goth's south garden where all 81 are named in the context of Andrew Crummy's extensive mural. The first to lay her herb was Mary Martin, grand daughter of Helen Duncan, the last person imprisonned in Britain under the Witchcraft Act of 1735.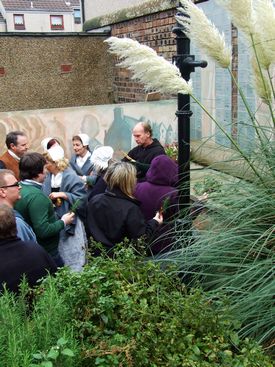 John Lindsay, Poet Laureate, once again supported the remembrance with new poetry as follows here:

A FLORUIT OF LIES

Fire, the lifegiver
Fire, the lifetaker.....
Few paradoxes about
The elements,
Or the moon
The Sun
And the Earth
Waxed more venal than
The floruit witch lie.

That men shun the truth
Is the sole truth;
For the Witchhunt
Was a mans' game –
A patron of all hysterias –
Cast in the knife-edged shadows
Of State sponsored
Church approved murder.

We are here to remember
Sharpened tools
For burning times,
When the songs
Of demonic madness
Filled our villages.

How fantastic and deadly
The travesties some laugh on now
Measured for those 81 folk
The quiet life
Or a gruesome fate.

______________________________________________________

The full story of Prestonpans 81 Witches and their Pardons at the Barons' Courts is available HERE on the web.

The full story of Helen Duncan's trial and Conviction in 1944 is also linked HERE.






Published Date: November 5th 2008