Tapestry's Next Stop: INVERNESS & KINGUSSIE June & July
Hardly time to catch its breath ...

Agreed the Prestonpans Tapestry is still at Prestonpans Community Centre until the end of this 8th 3Harbours Festival on Saturday June 8th. But it's swiftly back in the Highlands, bound for Inverness where the next exhibition opens on June 14th.

N.B. Take careful note of the days/ opening hours as you plan your visit to Inverness or Kingussie since they vary a wee bit!

Inverness saw both armies of the '45. Cope marched there after bottling out from a confrontation with the Highlanders at the Corriearick Pass in late August. The Prince was there in the late winter of 45/ 46 before the final encounter at Culloden when Cumberland had replaced Cope.

As the poster tells, it's at the Iona Art Gallery in Kingussie for much of July.

Don't miss the announcement that Andrew Hillhouse's 4 paintings for the Battle Trust and Kate Hunter's new portraits of The Prince and Sir John Cope are also on display - starting earlier on June 8th.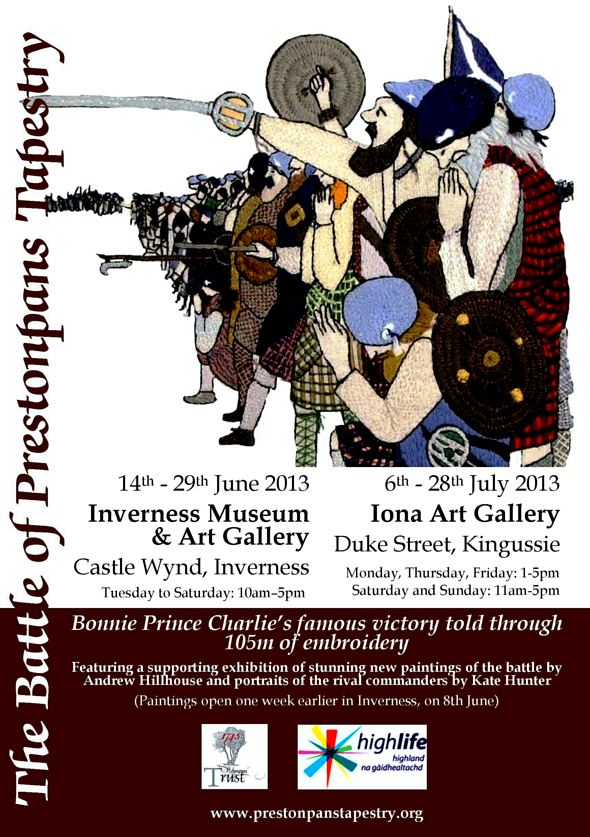 Published Date: June 7th 2013