Battle Lines appear at The Goth ... captured by Tom Ewing at the 2015 Re-enactments
Tom Ewing captures the spirit of re-enactment this year .. now an outdoor mural at The Gothenburg

The Arts Festival asked Tom Ewing, our acclaimed Pans artist and creator of more than a few murals in the town, to accept a challenge. He was invited to create a new mural for the outside walls of The Goth that captured the essence of the battle in 1745.

Why at The Goth? Well, that's where the Battle Trust was founded in 2006 and where it's been based ever since. Each year since then it's hosted the re-enactors from their Riggonhead Defile March with their Scotch egg and apple for sustenance through the Celebration breakfast and evening delights with special Fowler's Ales.

Go take a look. This is what you're after! Looks like the Highland Charge is on ...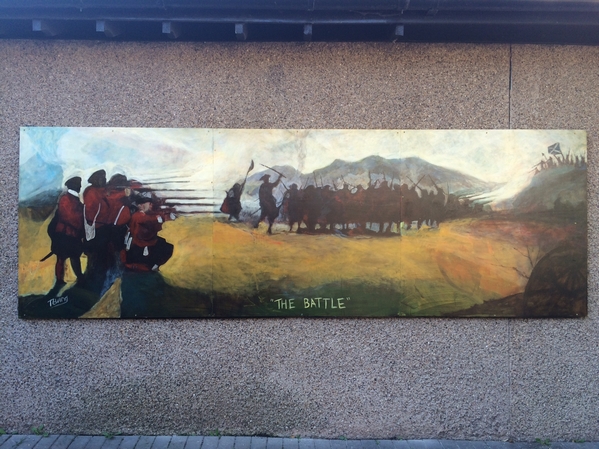 Students of Tom's displayed public artworks in The Pans, from his 'Pans Sporting Champions' at Pennypit, 'Witch Trial' in Cuthill Park, to 'The Co-op' and the 'Summerlee' depictions on the High Street, will be intrigued by this latest evolution in his artistic approach.... and there's Our Chimneys still to come!




Published Date: October 2nd 2015