Avoiding InchCape SubStation 'blight' on the Battlefield
Inchcape are inching a little closer .. and we must continue to resist ...

Meeting on Thursday night at The Prestoungrange Gothenburg, April 16th, the Battle of Prestonpans 1745 Heritage Trust reaffirmed its implacable opposition to any construction on the battlefield. This most especially means [Repsol]/ Inchcape's Offshore SubStation proposal.

Inchcape has asked Wessex Archaeology to undertake exploratory studies, and Scottish Power has agreed, but without any commitment to make the land available to [Repsol]/ InchCape as per their already successful Planning Consent in Principle.

The Trust, which also has Planning Consent for the same piece of land to create a Field of Remembrance with two stone Tables, one for each side with a Roll of Honour for the Dead, has also been authorised to proceed with its own archaeological assessment. This will be done in association with the Scottish Battlefields Trust.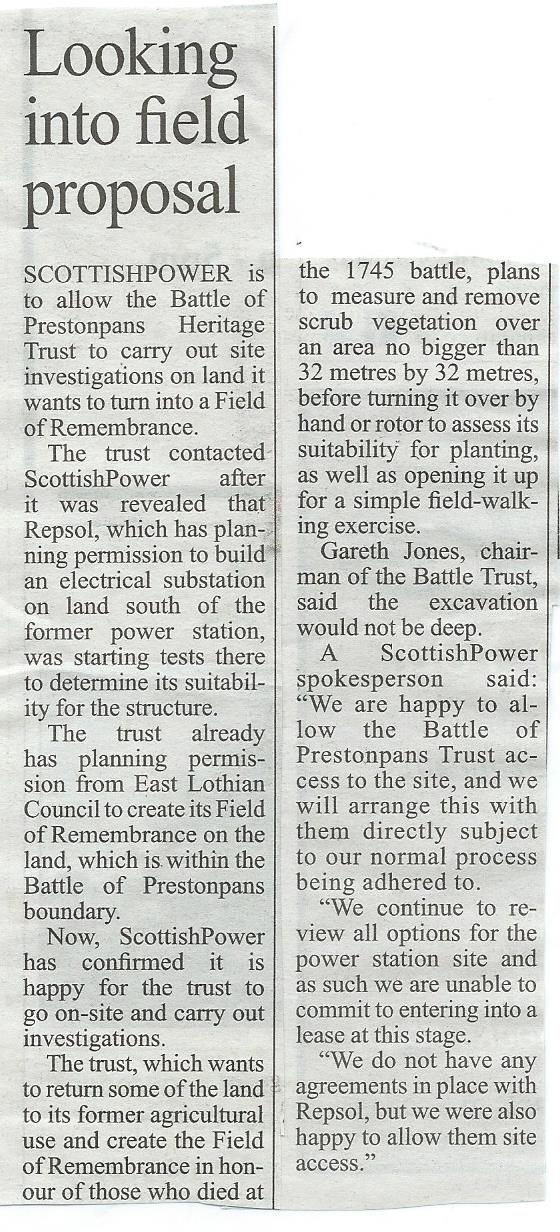 The time for hard choices by Scottish Power seems to be approaching ... and the Trust as ever remains optimistic as it continues with its broadscale interpretation and restoration work including the 18th century Waggonway. The Trust is now seeking an early meeting with Scottish Power to see when their firm decision can be made and progress made on installing the two Tables on the planned Field of Remembrance.


Published Date: April 22nd 2015