Gothenburg Pub Sign Hangs Again - Virtually
We have restored the Gothenburg pub sign as used by Tennent Caledonian from 1986 onwards until the Murrays took it down in 1998.

Surprisingly since the whole town calls and always did call the place The Goth, that name was only formally hung and recognised from 1986.

Research now shows that from 1908 until 1965 it was the Trust Tavern and, from 1965 when Trust Houses in London sold out to Bass, it was renamed the Forth Tavern.

Looks like we shall still be calling it The Gothenburg when it reopens. But with a new 21st Century sign... this one will have a place of honour indoors along with some old Fowler's Ales logos and signs no doubt.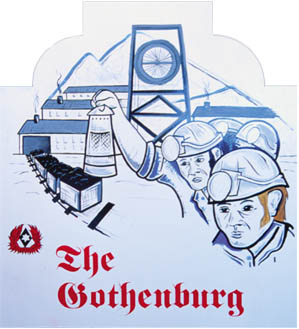 Published Date: August 1st 2002