Hope, Ambition & Victory ... played out live in Perth!
Prestonpans Tapestry exhibition 're-opens' in Perth

The Trust was delighted late last year when it was invited to bring the Tapestry back to the City of Perth, which it last visited in 2010 on its official Launch Tour. That had been just a flying visit for a few days, as it had been for the Prince in 1745! On Thursday June 12th 2014 it was heralded with a Civic Reception for an exhibition running to the end of July.

This is the first major exhibition in the Trust's 'The Prince Will Indeed Come Back Again' exhibition programme planned for 2015/ 2017.

The beautiful Perth venue for the exhibition is the historic St John's Kirk in the centre of the city, where Prince Charles Edward, folklore tells us, attended his first Protestant service in 1745. The air of the church is heavy with atmosphere, and the colours of the Tapestry stand out boldly against the ancient stonework.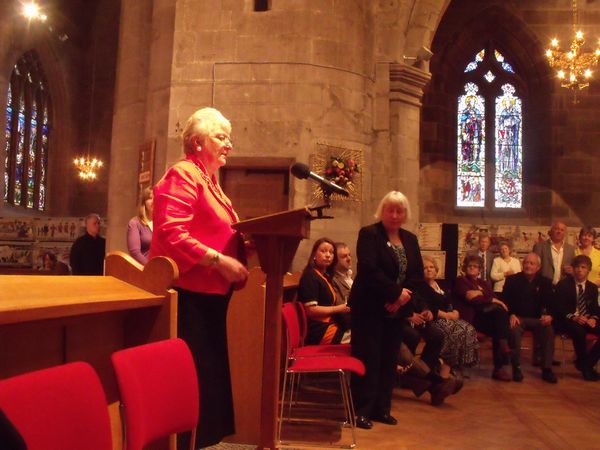 The Tapestry was welcomed by Liz Grant, Provost of Perth and Kinross [pictured above], who addressed the gathered guests and confirmed the City's great sense of pride that the Tapestry had returned. Trustee Arran Johnston thanked the Provost and commented specifically about the significance of the Prince's sojurn in Perth on his way to victory in Prestonpans. It was here that the Jacobite army had its first opportunity to drill and train ahead of its upcoming battle with Sir John Cope.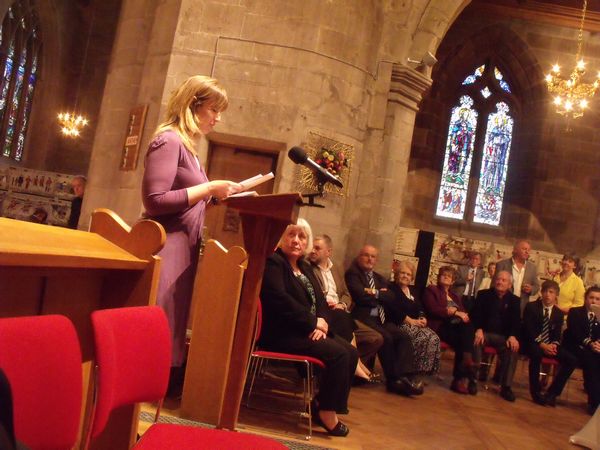 Arran then introduced Patsy Reid [pictured above], who had composed a special piece of music specifically for the occasion entitled Hope Ambition and Victory. After Patsy described the inspiration she had found in the Tapestry and the Prince's story, she joined the young musicians of the Gordon Duncan Experience for the piece's inaugural performance.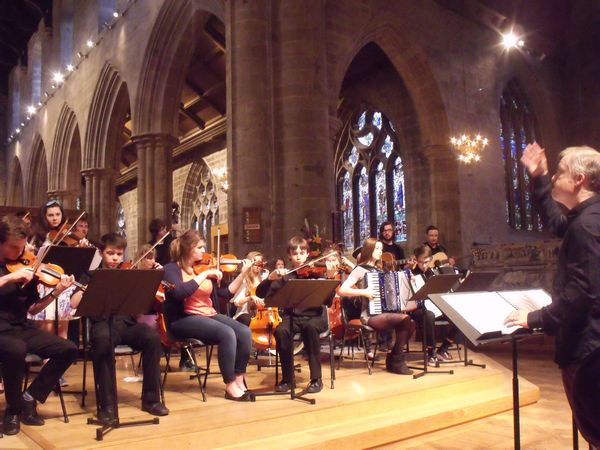 After rapturous applause for the musicians the Provost invited the guests to explore and enjoy the Tapestry. They're sure to be the first of many to visit the exhibition during its stay in Perth.

___________________________________

[Ed.] Very much hope to be able to capture Patsy Reid's composition here at the website shortly. And more significantly to get it performed at the Battle anniversary or Biennial Symposium in Prestonpans. Arran Johnston is seen already in discussion with Patsy Reid below!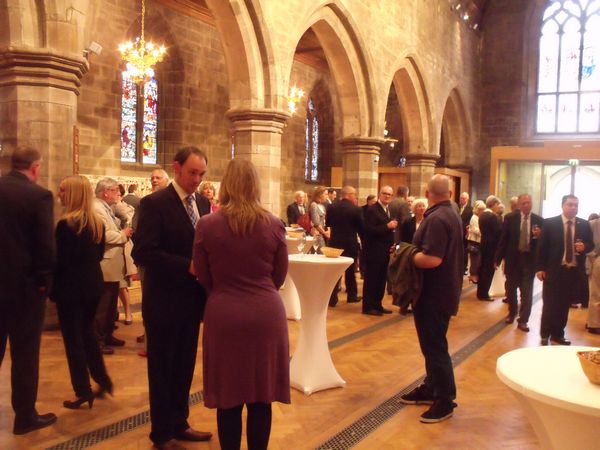 Published Date: June 19th 2014