Paisley Thread Mill Museum to Exhibit Prestonpans Tapestry: 27th April/ 4th May
Delighted to exhibit at Paisley's Thread Mill

The Trust has greatly welcomed the invitation from Paisley's famous Thread Mill Museum to exhibit the Battle of Prestonpans Tapestry. It will be there from April 27th/ May 4th. It's already on exhibition at New Lanark Mills as this latest announcement is made and of course will be at Pinkie House over St George's day celebrations - well Pinkie was home in 1745 to the Hanoverian Minister for North Britain!

The Thread Mill Museum is a fascinating destination in itself of course, so any visitor to see the Tapestry will have much else to enjoy. Details of the Museum are available HERE

The schedule in Paisley is as follows:

Friday 26th April
6pm Opening Ceremony: Paisley Development Trust, local MSPs/councillors etc

27th April - 4th May
2pm-8pm weekdays, 11am-4pm Saturdays.

The venue is a very fine space in the refurbished 19th Century mill by the river, and is being staffed by Paisley Threadmill Museum volunteers.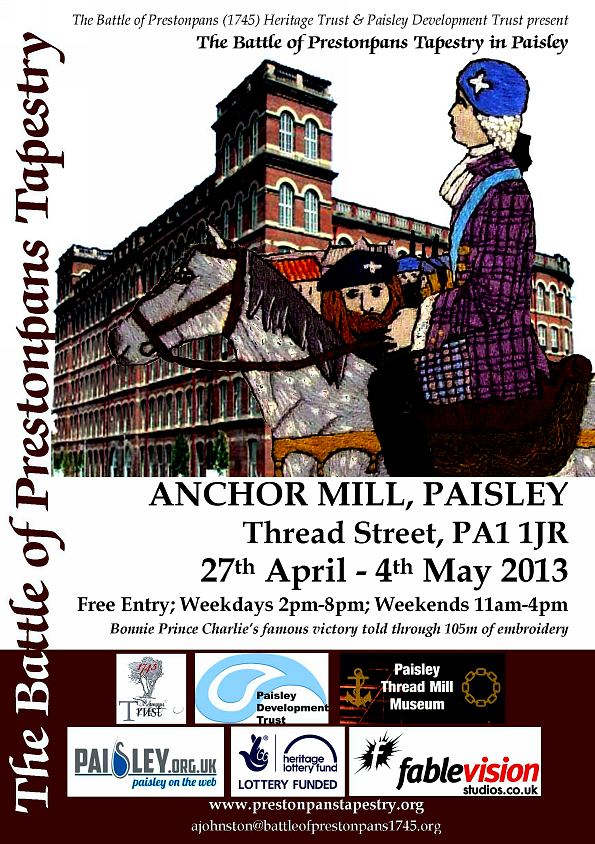 Published Date: March 13th 2013