1745's Lord Provost Stewart of Edinburgh Makes a Fist of it ..... but all's well that ends ...
Alan Brecks and Glenbuckets bring colourful and noisy re-enactment to St Mary's Cathedral

History tells us that the Prince captured Edinburgh in September 1745 without a shot being fired, since the Netherbow Porte was carelessly, or wisely, left ajar late at night. But that was only after much conscience searching and anxt amongst the city's Councillors. The task of considering the Prince's ultimata to surrender fell on the hapless Lord Provost Stewart at the time who was subsequently to be tried for treason but exonerated.

The Council meetings were brilliantly recreated in the Cathedral nave on Saturday at 6.30pm, adding another cameo to the Prince's Council of War re-enacted at Duddingston in the Sheep Heid and Church Hall.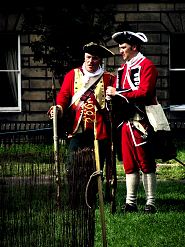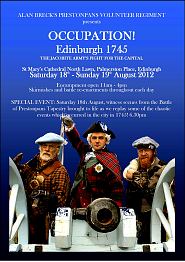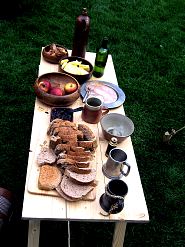 The Alan Breck's assisted as ever by the Glenbuckets had another tale to tell as well. The city might well have been captured without a shot being fired but the redcoats remained in the Castle throughout the Highlanders Occupation of Edinburgh until November 1st. And more than a few skirmishes took place as the redcoats foraged for food.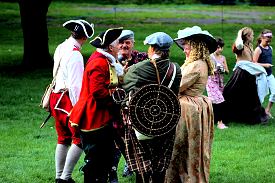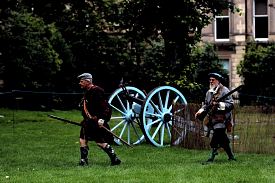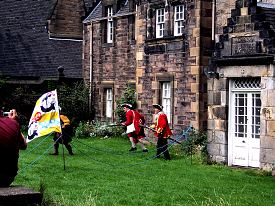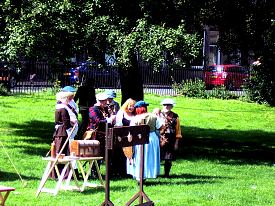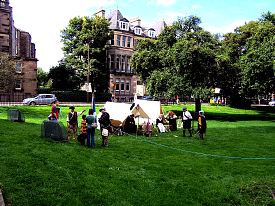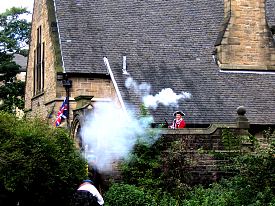 Throughout Saturday and Sunday passing tourists found themslves caught up in the smell of exploding musket powder and shouts and jeers between the redcoats and the Highlanders.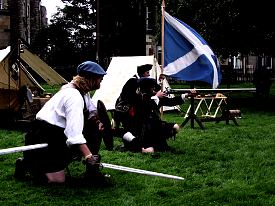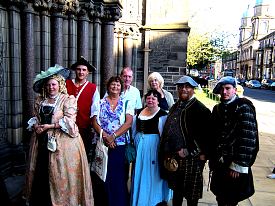 Meanwhile hundreds of visitors were making their way to view the tapestry inside the Cathedral - well over 1000 each week during the Edinburgh Festivals. The Exhibition closes on August 31st. After a brief rest it returns to Prestonpans - for the first time it will be at Prestongrange Heritage Museum for the duration of the annual re-enactments. [The panel telling of the Lord Provost's woes shown below was embroidered by a team from Edinburgh's Ageing Well Project which works in partnership with NHS Lothian, Edinburgh Leisure and Pilmeny Development Project.]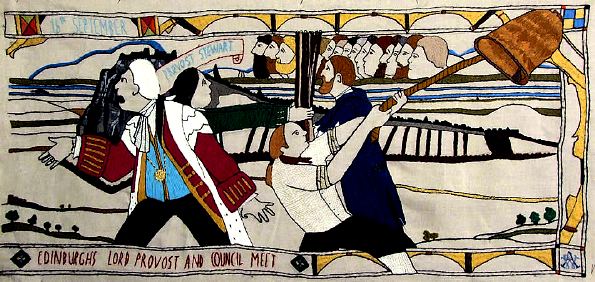 Published Date: August 22nd 2012