Marching [Walking] Again from King's Park to Duddingston for Good Counselling ....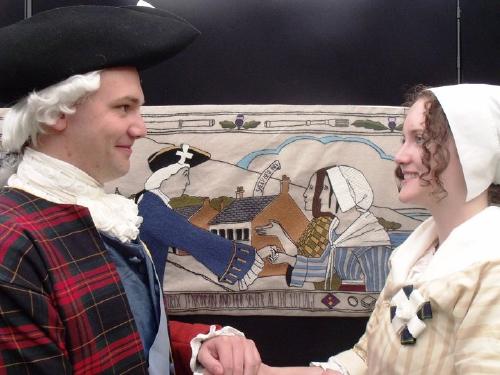 Duddingston Historical & Archaeological Society is Celebrating the Prince's Presence in their community in 1745

We are delighted to report that Duddingston, on the occasion of the 650th Anniversary of the Sheep Heid, is celebrating the Highlanders' arrival there and the Council the Prince held prior to the battle two days later. The Trust is of course well familiar with events there and conducted its own re-enactment in 2008 of the meeting with Beatrix and Mary Jenkinson. The encounter is pictured above - both as told on the Tapestry and in real life! In real life the Prince is portrayed by Arran Johnston and Beatrix [played by Fiona Campbell] really is his new fiancee. Congratulations!

Arran Johnston will lead the Highlanders this year in a march from King's Park to Duddingston on September 19th

The Duddingston Society has arranged a re-enactment march on September 19th, the precise date in 1745, departing from Holyrood Education Centre at 1.30 pm.

On arrival at Duddingston the Prince will convene and re-enact his Council in the Kirk Hall where the Trust's 104 metre Tapestry will also be on display from 12.15 pm - 5 pm. Embroiderers from The Pans' will be on hand to discuss and explain the artwork. The Trust's Guidebook will be on sale as will the new Greentrax release of The Prince's music and song.

Everyone is very much encouraged to wear Highland dress or tartan for the occasion.

Full details are available for download and print out HERE

P.S. .... and the Sheep Heid is celebrating its 650th with a beer festival too ...



Published Date: August 27th 2010