How to Stitch Up & Pack Up - Ozzie style
Arriving May 28th in Prestonpans: Rosemary Farmer from Sydney - plus Panel #94

We had an earlier update from Rosemary #94 on the trials and tribulations of wools in Australia [all those sheep and it's a problem?]. But she completed the last stitches on April 13th and completed blocking on Anzac Day - 26th. Now as the images below show, the 'Hundreds of Captured Redcoats' at Prestonpans are marched to Edinburgh. Some of the prisoners were kilted. Cope had units from the Black Watch in his army.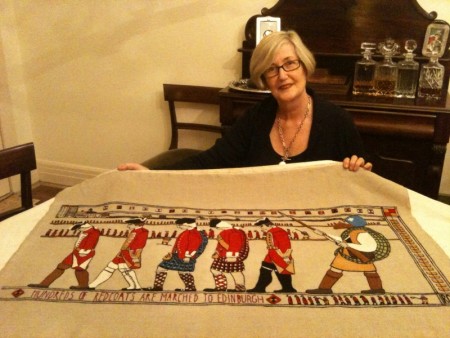 Rosemary Farmer arrives in Prestonpans May 28th with the completed panel all neatly wrapped. The sequence she recounted was as follows:

Just a note as we pack to leave in the morning 3rd May, on our journey via Toronto to Scotland and Prestonpans.

I finished Panel # 94 at 2.30pm on 13th April 2010.What a good feeling that was. Then came removing from the stretcher bars and ready for blocking. My husband is getting very good at helping. Blocking wasn't done until April 23rd.

Then the Redcoats were ceremoniously, with trepidation I might add, removed from the blocking board on 26th April, ANZAC Day. This is our equivalent [from Gallipoli] to your Remembrance Day. I thought that a fitting day for our soldiers to be removed from their board straight and smooth.

Next came packing for transportation. PVC piping was purchased as we could not risk anything squashing our precious cargo. So after the inner pipe was covered with calico the panel was rolled in another cloth of calico and tied gently with ribbon.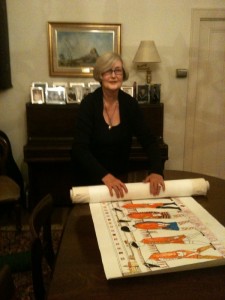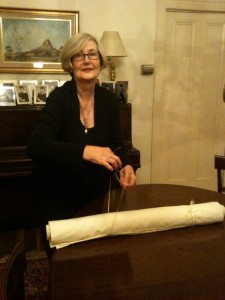 Next went the cartouche and all was placed inside another pipe and into a bag which will never leave my side until it gets to Prestonpans.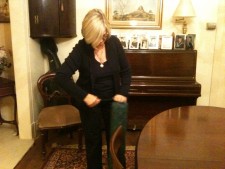 P.S. I've actually written my profile and will deliver it along with the photo and the panel when we get to Prestonpans.[Ed. Has everyone else been that good?]

Looking forward to meeting you all very soon, and many thanks for all those helpful tips that have been put on the website.

Best wishes,
Rosemary Farmer





Published Date: May 9th 2010