Art School Cockenzie's Summer School
Summer School Master Classes with Andrew Crummy

"There were six artists over 5 days and they produced a range of work, including portraits, still life and in the end they constructed a series paintings based on the history of Prestonpans called The Monk's Meal. A flavour of their work appears below.

We dressed one of the students as a Cistercian monk, painting fish (which didn't smell quite right), coal, salt, Pottery, brick, glass and of course a bottle of beer [Ed. why not white wine?]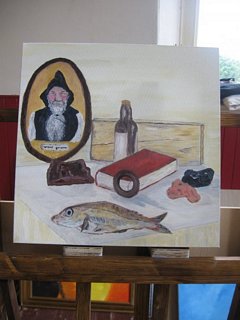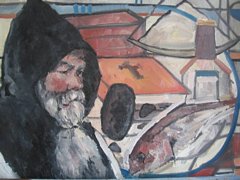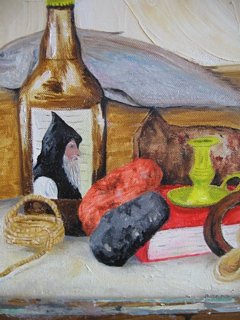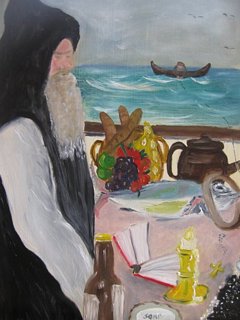 We arrived there through a series of exercises which introduced basic drawing and paintings skills including composition, perspective, constructing a painting, tone and shadow. The aim was to support the students on their journey, hopefully taking them a little further along and to have an enjoyable time. So lots of teabreaks, chat and terrible jokes!"

Worm's Eye View?

Rudi Fruzynski commented: "This was a truly amazing experience. I enjoyed all the four days I attended which has changed my whole outlook on art and painting. The tuition from Andrew was first class. The course was demanding, but I'm sure you will agree from the photographs that our efforts are testimony to the quality of the tuition. The tea, the chat and the humour was oh ... and the company and friendship of the group was just the ticket.

I can thoroughly recommend this Summer School to anyone who enjoys painting and wants to begin to look outside the box and advance a few more steps down the road to their own special place where you can paint what is in their imagination and not just be confined to copying pictures out of calendars, magazines, TV programmes and the like.

Sincere thanks to the Prestoungrange Arts Festival for sponsoring the project."

Time to book for next year then?

It's intended that these Summer School / Master Classes will be held each year, so have a word with Andrew Crummy if it sounds good for you ....



Published Date: August 2nd 2009