'Alan Breck' Colonel-in-Chief's Book .... here in Review
The Battle of Prestonpans 1745
Martin Margulies, Tempus 2007

As the Prince and the Elector of Hanover both found, life is full of co-incidents. Yet one anticipates they might both be surprised at the co-determination of Martin Margulies and the 'people of Prestonpans' to resurrect discretely the long ago stories of a battle fought on September 21st 1745 in Scotland. Before delving into Margulies' excellent new contribution to the subject which is of course the purpose of this review it will be best to examine the discrete determinations that occurred. Martin Margulies as you would not expect is Law Professor Emeritus at Quinnipac University in Connecticut. His especial lifelong interest has been standing up for human rights but he has a holiday home on South Uist just a walk away from where the Prince both came ashore in 1745 and departed in 1746. How could he resist taking up the case?

The 'people of Prestonpans' would seem at first sight much more likely to be resurrectionists, but the manner of their arousal less so. The small town had for nearly 1000 years played a significant role in Scottish industry. Its earliest activities in salt panning and coal extraction led to associated chemical, brickmaking and brewing enterprises. It had led Scotland's pottery industry in the 18th and 19th centuries. And all these had provided hometown employment for everyone. But the collapse of the coal industry in the 1960s devastated the town's industrial base and made it a dormitory for nearby Edinburgh. At the end of the 20th century an ambitious public art movement began re-telling the story of the town's former greatness as a creative driver for socioeconomic regeneration and eventually the battle fought in 1745 came to the top of its agenda. It was as Margulies identifies most clearly a very significant battle even if its political and military impact at the time was only temporary. But it wasn't politics and military significance that the 'people of Prestonpans' had it in mind to address. It was creative community self-esteem. For them the battle symbolised Victory for a Young Pretender that gave rise to Hope and Ambition. It was right on song. A scholar such as Martin Margulies who could bring his legal mind and his humanity to making a unique contribution to the fullest understanding of the battle was required. And here he is.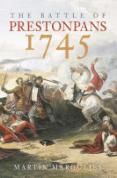 It is very much to be hoped that such timeous co-determination will be good for the sales of The Battle of Prestonpans 1745. It is as already remarked an excellent book if what you are hoping to open is a deliberate and careful yet compellingly readable analysis of the often contradictory and fragmentary evidence available. Racy story of daring it is not although authors without a legal training have characterised it as such. It describes what one individual [Prince Charles Edward], with single minded determination, can do to motivate and inspire a dejected people across Scotland to have hope and ambition and enjoy victory. As soon as he arrived on South Uist from France he was advised "Go Home", to which he famously replied "I am Come Home". As for the reality that the whole enterprise eventually ended in failure, that was never a reason for not having the ambition and hope that made the attempt worthwhile. Lord George Murray, his finest General, articulated that view from the outset as did The Prince himself.

As a lawyer Margulies knows that any two individuals viewing the same occurrence will give different descriptions of what occurred. It inevitably arises from the individuals' differing saliencies for aspects of the occurrence. When one adds to this the deliberate attempts of 18th century espionage and military intelligence to distort realities it can be hard to arrive at any unchallengeable conclusions. Where he can Margulies does as in his analysis of who did or did not get to the Corrieyairack pass first. But he also delights in giving a balanced analysis of the role of General Sir John Cope, the normally ridiculed Hanoverian CinC who was soundly defeated at Prestonpans. There is truly no evidence to show that Cope was either a coward or in any manner an incompetent commander. Rather the reverse. At each and every stage his actions taken within the politico-military framework of North Britain at that time could scarcely be challenged. With hindsight we can argue that Cope should have remained in the Lowlands and awaited The Prince's arrival at Edinburgh rather than making his unsuccessful attempt to reinforce Fort Augustus. But as it was for The Prince in Derby a little later he perhaps only failed from false intelligence. But Cope's skill at getting his army from Inverness to Aberdeen and embarked there for Dunbar to arrive only a day too late to save Edinburgh was outstanding – as was his selection of the fields at Prestonpans for the confrontation he knew must come.

That confrontation, the Battle of Prestonpans, which gives Margulies' book its title, is not reached until page 140 and the book only has 191 pages. One could perhaps argue in contemporary court that it was misleading because of that! But the inestimable value of the final pages more than justifies the title. Myriad disparate accounts of what transpired are analysed in Margulies' now familiar style. We learn there was no centre to the Highland charge although it might have appeared that way to perplexed redcoats; just disconnected, uncommunicative left and right with the reserve and The Prince himself in the centre. We explore the relative numbers on both sides and the alignment of the Hanoverian army at dawn once the unexpected close quarters attack from the east is identified by pickets. We analyse the subsequent issuance of abortive orders to move cannons and for dragoons to charge, of the flight of the cannoniers, of vain attempts by named officers to rally panicked dragoons and foot soldiers. And of battlefield carnage from the weapons in hand with the Highlanders. And of Colonel Gardiner's mortal wounding. And of the mercy and medical treatment demanded by The Prince for his "father's subjects".

Written at any time Margulies' work would deserve and earn a place of considerable significance in the admittedly large library of works on the '45. But deliberately focusing as it does on The Run Up and on the Battle of Prestonpans itself at a time when the 'people of Prestonpans' have resolved to make living history of it gives it a unique significance and importance. It has become at once the 'official' script for the Battle Trust's re-enactments and Martin Margulies has inevitably been invested as Colonel-in-Chief of the newly formed Alan Breck Prestonpans Volunteers. That is an outcome he can scarcely have expected when he first put his legal mind to work from his holiday home on South Uist.

He will need to expand his final paragraph on page 191 which suggests all one needs to do is climb the battle memorial bing and imagine. If the 'people of Prestonpans' ambition is achieved there will be ten minute virtual reality of the ten minute battle atop that bing to be shared year round, annual reality re-enactments and a living history aftermath of Victory Hope and Ambition across the community.

All just a co-incidence? Surely The Prince intended it all along.

click to enlarge the press cutting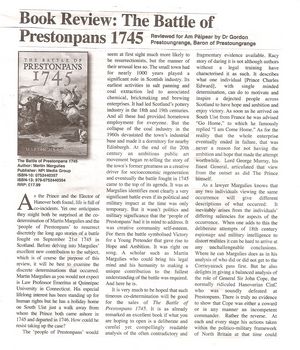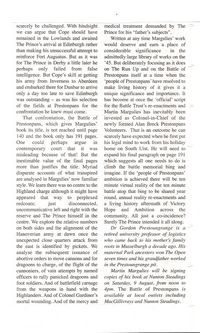 ___________________________________________________________

Contributed by Dr Gordon Prestoungrange, this review first appeared in Am Paipear, South Uist, August 2008
Published Date: April 14th 2008