Beatrice Jenkinson, The Prince & Colonel Gardiner recounted at 100th Anniversary
From 1845 the Tale Repeated in 1893

The cuttings below are a reprint in 1893 of an original article published in 1845 i.e. on the 100th Anniversary of the Battle. It tells of Beatrice Jenkinson's role not as the Tranent Minster's own daughter [as is often suggested] but as the daughter of a visiting Minister at Tranent at the time. And it also tells of her meeting the previous day with HRH Prince Charles Edward who was much impressed with her beauty, and said so. It comes from "Brief Notices, original and collected, of the Clergymen who have held Pastoral Charge in the Parish of Athelstaneford ... " penned by the Rev Jenkinson's great grandson. [We thank Professor David Ritchie, a direct descendant of Beatrice for bringing this article to our notice.]

click on each cutting to enlarge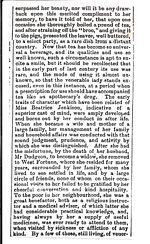 Increased Authenticity for Future Re-enactments

The Trustees made most considerable effort in 2007 to create an authentic re-enactment of Colonel Gardiner's wounding and eventual death on September 22nd 1745. Rev Robert Simpson of Prestongrange Church [as Gardiner], Councillors Peter MacKenzie [as Narrator] and Roger Knox [as the manservant/ miller], and Louise Hogg, the Minister's daughter at Tranent today, all worked together for several weeks to give a compelling re-enactment. But the press cutting above affords the opportunity to take authenticity several steps further forward in future years.





2007 saw the skirmish re-enacted and his manservant dressed as a miller take the Colonel from the field of battle on a cart, the Prince having restrained his followers from killing Gardiner as he lay by the thorn tree where he fell. In future the story can begin at Duddingston as Beatrice, her brother and older sister Mary, all meet the Prince who flatters young Beatrice on her beauty and gives her a diamond ring - which the Prince takes from his own finger. And the cameo re-enactment's conclusion at Tranent Manse can most appropriately see the redcoats offered snuff, and later enjoying a large joint of mutton in the kitchen, whilst the Colonel passes away undiscovered in the room above.


Published Date: October 12th 2007