BATTLE OF PRESTONPANS CONFERENCE
A Symposium and Arts Festival
supported by the National Lottery through the Heritage Lottery Fund
18th and 19th September 2008 @ Prestonpans Community Centre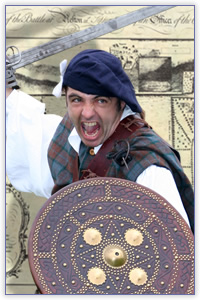 The Battle of Prestonpans was arguably the high point of the 1745 Jacobite rebellion and provided the Prince and his Highland army with all the hope and ambition they needed for the subsequent march towards London.
The Battle of Prestonpans Heritage Trust is campaigning to protect the battle site for future generations and build a state-of-the-art living history visitor centre.
They also aim to further knowledge of the battle and to celebrate the flourishing artistic creativity which the victory sparked.
The Battle of Prestonpans Conference provides the opportunity for the local community to come together with involved academics, local historians and artists and to discuss the Battle and explore its cultural heritage. It is free to attend and is set to become a biennial event.
The programme is still subject to change, but in outline will consist of:
Friday 19th September, 10am – 3pm
A range of community activities concentrating on the creative influences of the battle - on literature, song and the visual arts.
Schools workshops
Children's storytelling sessions
Writers' workshops led by Janet Paisley
Art workshops for children and adults
The art of re-enactment and battle modelling led by Gordon Veitch