The Prince's Salutation Came First and the Hotel's Name Followed ..
Prestonpans Tapestry Highlights another Popular Misconception

The Tapestry team had felt most certain that the Prince had lodged at the Salutation Inn [the Sally] in Perth for four days as he marched triumphantly to Edinburgh in September 1745. But the initial 'signing off' visit there highlighted some local doubts.

Duty Hotel Manager Andy Clark has his father's word for it that the Prince never actually lodged there but simply made use of Room 20 for Council Meetings and presumably these would have included Lord George Murray and the Duke of Perth. It's now known as the Stuart Room and boasts a fireplace dated 1699 although the remainder has been altered. A print of Colonel James A Grante's 1748 map of the campaign also hangs there. He was with the French Artillery and Engineers which landed at Aberdeen in October 1745 and was Master of Ordnance to the Prince until he was wounded in the siege of Fort William in March 1746. He finally escaped back to France in September 1746 with the Prince.

click to enlarge images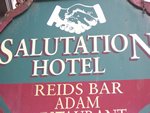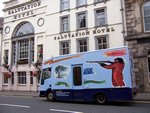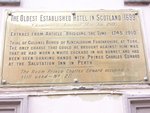 And there's the significant information recorded on the outside wall of the Inn suggesting its name 'Salutation' may well have arisen after the Prince's visit in 1745 and for very good reason. It was the Prince's handshake with Colonel Bower of Kincaldrum in Forfarshire outside the Inn that was the only evidence offered in his subsequent trial at York in 1747 that he was a Jacobite supporter - although he had been reported to have been wearing a white cockade at the time of the handshake!

Finally, any image depicted on the tapestry will need to reflect the original Inn whose facade and interior were extensively altered by the famous local architect Reid in the 1820s.


Published Date: July 31st 2009