Final programme details: 275th Anniversary 16th/ 21st September 2020
275th Anniversary Weekend Programme is now finalised

The planned programme was originally to have taken place across East Lothian with specific face to face events taking in Prestonpans. It has now been adjusted to take account of Coronavirus guidelines. Other aspects of the 275th Anniversary Year are being rescheduled to take place in 2021.

The events include a specially prepared evening of music and storytelling, a programme of talks and a commemoration ceremony. All events are free to attend (online).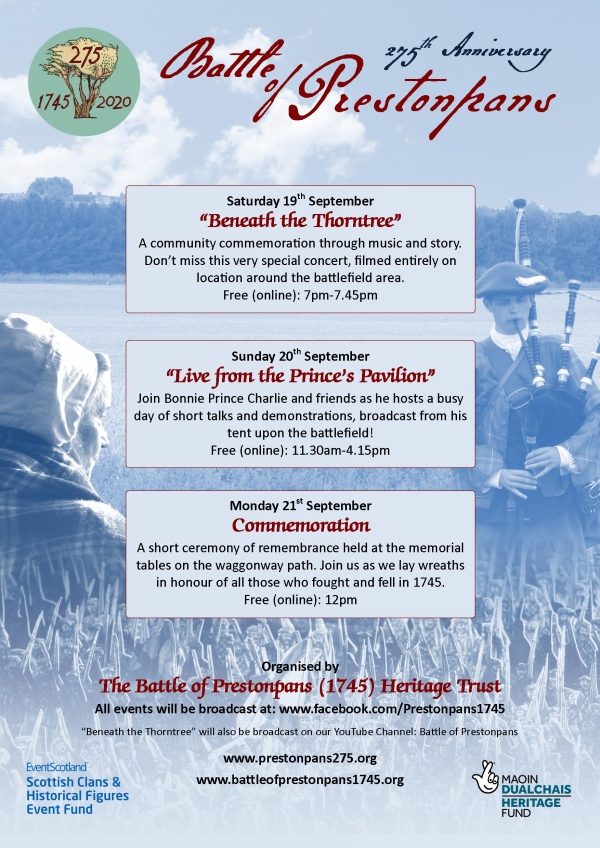 • The Fall of Edinburgh 1745 (16 September, 8pm): this online talk will take place over Zoom and will be live-streamed on Facebook. When the citizens of Edinburgh went to their beds on 16 September 1745, the city was in the hands of King George II. When they awoke the following morning, it had fallen to the Jacobites. This illustrated lecture from historian Dr Arran Johnston explores the events which led up to the capture of the capital city, an event which paved the way for the Battle of Prestonpans just a few days later.

• Beneath the Thorntree (19 September, 7pm): an evening of music and storytelling that has, thanks to the support of The National Lottery Heritage Fund, been specially filmed across three days in the historic Prestongrange Church and around the battlefield. With over 40 participants to choreograph in readings, costumed drama, musical recitals and song, all in keeping within coronavirus guidelines, the filming was a complex affair. Helping to tell the story of the battle from a particularly local perspective, most of the extras and performers have been drawn from the battlefield communities. The film will be shown online on Facebook and YouTube.

• Live from the Prince's Pavilion at Meadowmill. (20th September, 11.30am - 4.15pm): Join Bonnie Prince Charlie and friends for a virtual festival featuring a series of 15-minute video presentations hosted live from Prestonpans battlefield. Viewers will learn about the tactics of the battle, learn about the clans and regiments that fought there, and how the rival soldiers dressed. There'll also be an 18th century cooking demonstration, and the Prince will answer questions submitted by local primary schools.




• And finally, the formal Commemoration Ceremony (21 September, 12pm) will remember those who fell in battle on both sides, featuring a minute's silence, bagpipe lament and a wreath-laying. Held on the battlefield itself, the commemoration will be live-streamed and it is hoped that viewers, especially members of clan societies, will watch from around the world.

The Trust intends to hold a Family Exhibition and Event day, which they had planned to hold at Prestonpans Town Hall this month, in the spring of 2021.

In the meantime, from now until 20th December, Children between the ages of 10 and 17 are being invited to take part in a creative project to mark the anniversary of the battle through literature and art. Entries in prose, poetry or art and design in Gaelic or English, focusing on the battle will be considered with selected submissions published in a special commemorative book.

A separate category is also open for adults over the age of 18. Full details and some inspiration materials can be found at
www.prestonpans275.org/creative-project/

Further exhibitions, talks and events will continue throughout next year, climaxing with a major re-enactment of the Battle of Prestonpans in September 2021. This large-scale living history event will bring the heritage to life for the widest possible live audience. The event will provide the opportunity for visitors to come face to face with re-enactors in full character and period dress, and even try hands-on period activities.

_______________________________________________________________

The Prestonpans 275 events are supported by EventScotland, the National Lottery Heritage Fund, East Lothian Council and Bòrd na Gàidhlig. As fundraising continues towards a living history centre to mark The Battle of Prestonpans, aspects of the centre's planned activity programmes will be piloted in 2020 and 2021 to research the battlefield's visitor profile and work towards the fundraising goal required to make this dream a reality. Find out more about the vision for a new living history centre at http://prestonpans275.org/a-new-vision/

Find out more about the Prestonpans 275 programme at
http://www.prestonpans275.org

https://twitter.com/prestonpans1745 #prestonpans275

Published Date: September 5th 2020