Battle Trust Memory Lane [23]: Camerons take fire in Tranent churchyard
Couldn't be better ... the Kiwis came on cue ..

More than a few have asked how it was that the Prince's Clans Exhibition just concluded at The Gothenburg [but to be re-presented again September 18/ 19th during the annual re-enactments and toured to schools] included just one particular re-enactment - the Camerons skirmish at Tranent churchyard on September 20th 1745.

The answer lay in New Zealand, from where Denis, the ANZAC Commissioner of Clan Cameron, had asked the Trust if he could visit the scene just where one of his own ancestors had been wounded. And since he and fellow Camerons were also coming for The Clans Gathering on July 25/ 26th the Trust resolved to give him and his Clan members a proper Homecoming in Tranent.

Accordingly, with the much appreciated assistance of the Glenbuckets and our own Alan Breck Colonel Agitant, Adam Watters, the skirmish was re-enacted. A redcoat cannon laid fire on them.

The Story as best we can tell it ...

On September 20th the Highlanders under the command of Lord George Murray occupied the highground above Prestonpans from Birsley Brae to Tranent Churchyard. They were too far away from Cope's army to offer any oportunity for an exchange of fire except in the churchyard.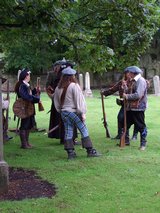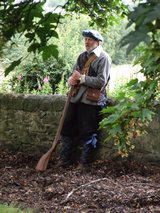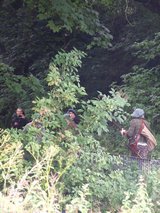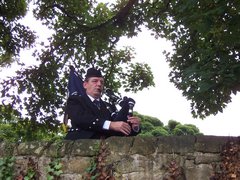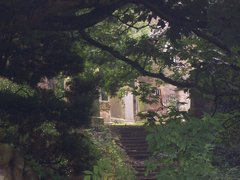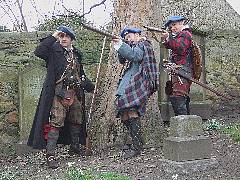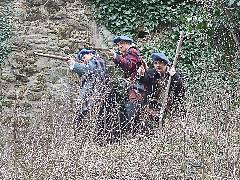 On his own initiative Colonel O'Sullivan [an Irishman serving in the French army who had accompanied the Prince on La Doutelle] had placed a detachment of the Camerons in the churchyard. When they saw Customs Officer Walter Grossett approach on horseback they fired on him with their muskets.

click to enlarge pictures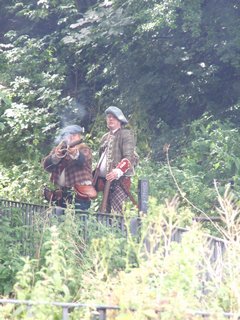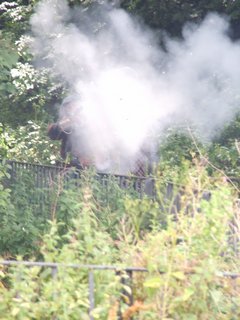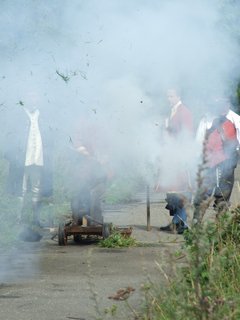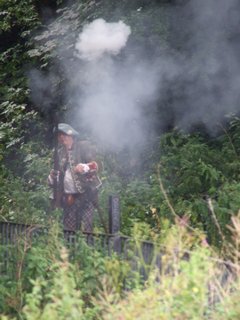 They did no harm to him and he returned to Cope with the details of the Camerons' position and Grossett convinced Cope to send a cannon to give discomfort to the Camerons in return.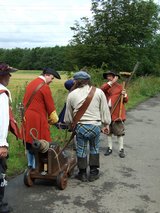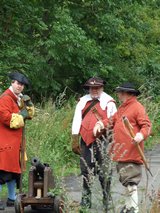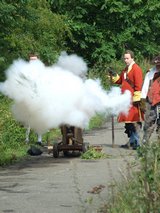 This the cannon duly did occasioning some injuries but no reported fatalities amongst the Camerons. Further musket fire was given to the cannoniers who then withdrew. After an alercation in the churchyard bewteen O'Sullivan and Cameron of Lochiel who took a very dim view of his clansmen being sent there in the first place, the Camerons also withdrew.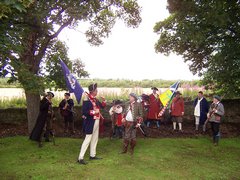 The Kiwis came to the Prince's Clans Exhibition - and the Camerons found a Robertson too!

So, the ANZAC Commissioner was able to visit the very spot where his ancestor was wounded at Tranent and the party later joined the Trust at the Gothenburg to view the Prince's Clan Exhibition and pose for a photograph beneath the Cameron detailing. One octogenarian Cameron clanswoman also owed allegiance to the Robertsons and determinedly stood by their panel too!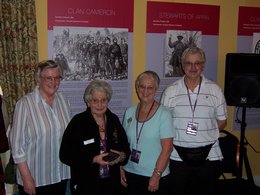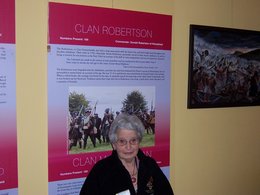 __________________________________________________________

... and the gongoozlers looked on ...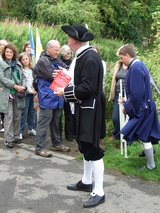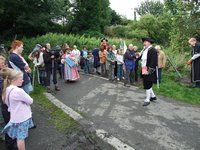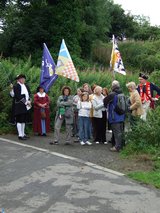 Published Date: July 3rd 2020