Battle Trust Memory Lane [15]: National Battlefield Symposium 2010
So what's a Symposium anyway?

It has to be admitted we've talked 'symposia' around in circles ever since 2008. Perhaps it's a melange then. In 2008 it was a Conference, the launch of Gordon Veitch's BattleGame and a performance of The Battle o' Pots 'n Pans. This year it was indeed a conference again [in the Town Hall], the launch of Kate Hunter's new portrait of The Prince plus a Youngsters' All-Action Day [in the rain!] at the Heritage Museum with help from the Glenbuckets and the Alan Brecks.

Biennial's much easier. That's every two years so we've got time to think on't till 2012.

But for 2010 perhaps we can and should start with Kate Hunter's new portrait - shown below with Arran Johnston and Nicola Kalinsky, Chief Curator Scottish National Portrait Gallery - that's the location of the La Tour which is now thought to be of Charles' brother Henry rather than of our own Prince. Some 40 participants were in attendance for the day to hear and discuss inter alia that change of mind.

click to enlarge the pictures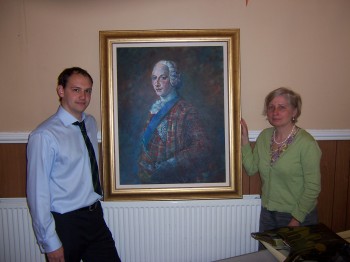 Reassuringly, Nicola pointed out in her excellent review of all the lifetime portraits of the Prince, that many if not all were made for 'a deliberate purpose' - and she understood our Trust's determination to have its own 'undisputed' image which she felt was entirely appropriate, indeed in the highest traditions of portraiture!

Herbert Coutts introduced a broad array of speakers

Trustee Herbert Coutts was in the chair for the day, which opened with Arran Johnson reflecting on the role of the Prince as a Commander-in-Chief - drawing on the content of his forthcoming book, Valour Does Not Wait. He was followed by Charles Burnett, Ross Herald of Arms who gave an illuminating insight into the crisis occasioned in Lyon Court by the Prince's arrival in Edinburgh. In fact Lord Lyon absented himself completely and the lot fell on Ross Herald to make the Proclamation of King James VIII and III at the Mercat Cross on September 19th 1745.

After lunch taken at the Prestoungrange Gothenburg, Andrew Crummy reported on progress with the Prestonpans Tapestry and Martine Robertson on the extended programme of 30+ School Visits across the Lothians. Finally Dr Tony Pollard gave a resume of his now completed archaeological survey of the battlefield towards Seton Farm East.

Rainy Second Phase for the Symposium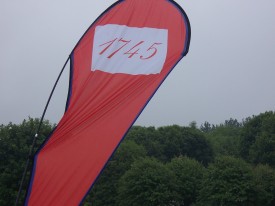 The Alan Breck Regiment was joined by the Glenbuckets at the Prestongrange Heritage Museum for Phase 2 of the 2010 Biennial. Despite the rain, it was greatly encouraging to see well over a hundred youngsters from local schools, plus their parents, brave the dampness to have 'fun' with skirmishing and weapon demonstrations at a small encampment - and Greg Allen was on hand too with the BattleBus. In the Power House at the Museum Gordon Veitch played and replayed the Trust's BattleGame and our Clans that Came Out with The Prince Exhibition was shown.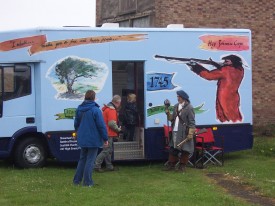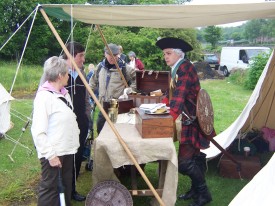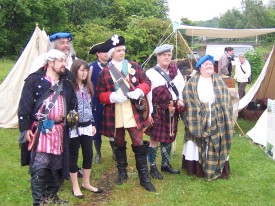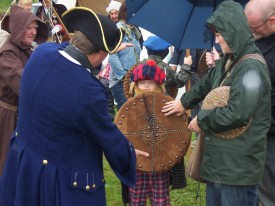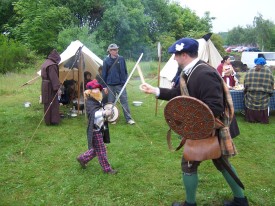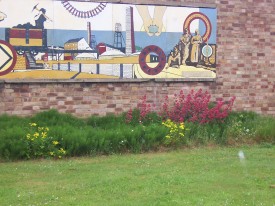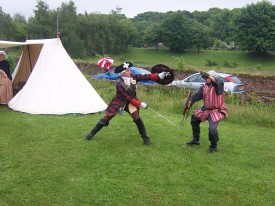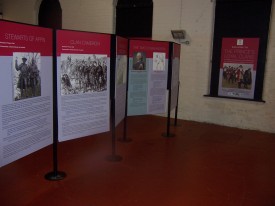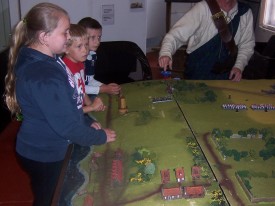 Evaluation recorded that it had gone well ..

The customary verbal and documented feedback both from the cerebral seessions at the Town Hall on Friday and the fun time at the Museum on Sunday suggested the design of the 2nd Biennial Symposium had worked well. All that's needed to improve the occasion in 2012 is 'controlled weather' for any outdoor segment!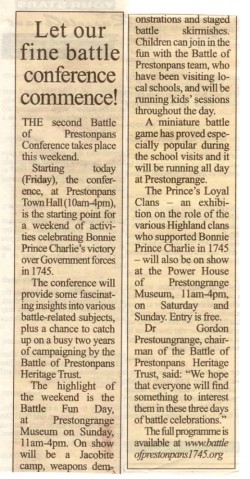 Published Date: June 24th 2020