Battle Trust Memory Lane [14]: First National Battefields Symposium in 2008
Biennial Symposium Brings Stakeholders Together

One of the areas which the Heritage Lottery Grant the Trustees received was intended to assist was stakeholder interaction - thinking and talking through what can be done, needs to be done and how to accomplish it. With attendance exceeding 400 across the Thursday and Friday, it clearly brought many diverse community and professional interests together for precisely that purpose.

click on all photographs to enlarge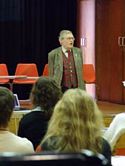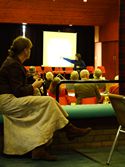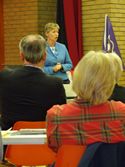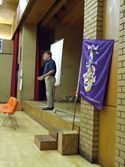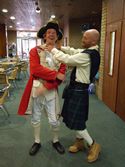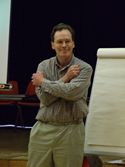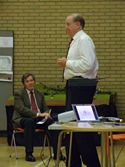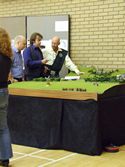 60+ registered for the sessions, chaired by Trustee Herbert Coutts. Led by Drs Christopher Duffy and Tony Pollard they explored the historical and archaeological aspects of the Trust's work. East Lothian archaeologists, Scottish Power executives, 1745 Association members, Jacobite authors, university faculty and doctoral associates, Historic Scotland officers, East Lothian Antiquarians together with Trustees and interested indwellers posed the questions to speakers and panelists alike. Trustees Gareth Bryn-Jones and Dr Gordon Prestoungrange outlined how the Campaign's Dream in 2006 is increasingly taking shape towards its goal in 2011 of a vibrant Living History Centre in The Pans. The emerging interior designs of haleysharpedesign were also discussed for the first time. Finally Dr Donald Smith explored with us all the power and excitement of Story Telling.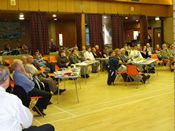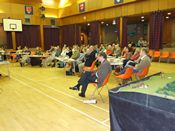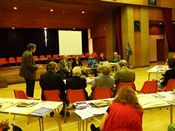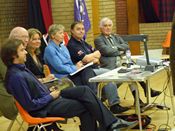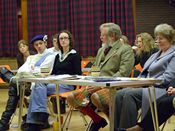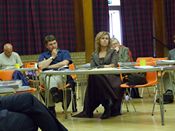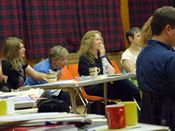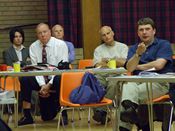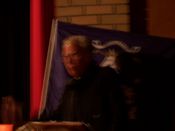 Trustees Kristine Cunningham and Herbert Coutts took responsibilty for convening and chairing the entire two days and were delighted with both the sustained attendances and the debate. The second day saw some 250 children sharing in the 'art' festival and locally involved authors in workshop with Janet Paisley of White Rose Rebel fame in particular.

It was also the first opportunity youngsters and the not so young had to see the work-in-progress by Gordon Veitch and colleagues for the BattleGame boards that recreate the topography to scale and all the significant buildings of Prestonpans and vicinity in September 1745. The detailing of the 18th century Tranent Church and of Preston and Bankton Houses [shown below], the former House of course no longer standing, was especially admired.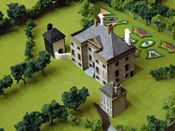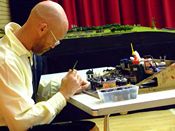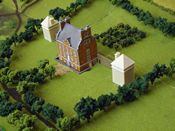 Finally, on Thursday night an audience of 70 that even out-did the Edinburgh Fringe average attendance saw the Battle of Pots 'n Pans presented at The Commuunity Centre bringing to a close its 2008 season run of some 12 performances across Edinburgh and the Lothians.


Published Date: June 23rd 2020