Shopping For Pottery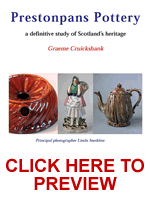 Certain pottery related items including Graeme Cruickshank's extensively illustrated a definitive history of Prestonpans Pottery book are available to purchase via the Prestoungrange Online Boutique.
The Prestoungrange Online Boutique gives easy access across the world to Arts Festival, Barons Courts, Fowler's and Gothenburg souvenirs and the serious side of affairs as well such as our publications, CDs and art reproductions. Meanwhile, our thanks for your interest and support of all our activities in The Pans.