The 4th Annual Music & Ale Festival 2008
This is currently planned for August 2008 across two days with headline and local bands
playing throughout. The Festival will be heralded across East Lothian 'live' on
the Pans Music Bus travelling far and wide.
The Festival's Director for 2008 is David Logan
david.logan5@btopenworld.com
The 3rd Festival in 2007 sponsored by The Prestoungarnge Gothenburg and
Fowler's Ales continued the successful trend with more than 1200 particpants.
We were extremely proud that the headline act for 2007 were Glastonbury veterans
THE LEVELLERS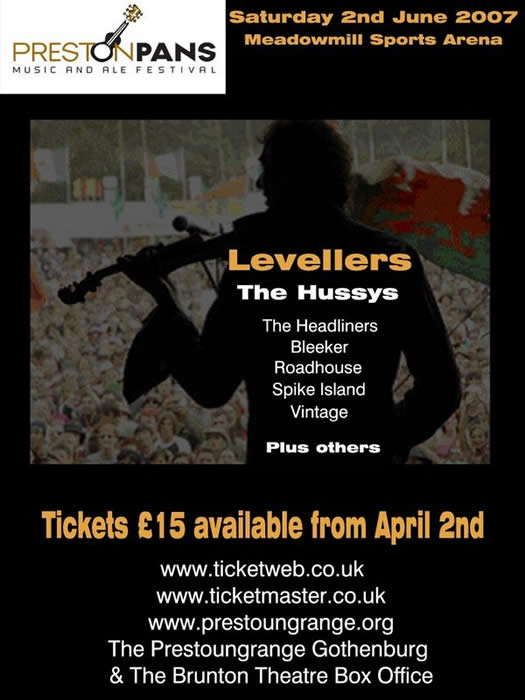 With a great supporting line-up from:
The Hussy's
The Headliners
Bleeker, Roadhouse, Spike Island, and Vintage.
Plus, along with our main Fosters Marquee, this year we're also having a
Coke ZERO tent featuring a host of young
up-and-coming bands.
Tickets £15 are available from April 2nd, by clicking the link
above and below or:
In person:
The Prestoungrange Gothenburg, Prestonpans
or
The Brunton Theatre Box Office.
We look forward to seeing you there!
For more information on Prestonpans and how to get to the village, please click ˇ­here
Minimum age is 14.
Times: Gates open at 1pm and the Festival closes around 10pm.