Prestoungrange Pottery 2002
From 1745-1930 Prestonpans' natural resources sustained four major potteries producing domestic ware, garden urns, crockery and small jars. In honour of this tradition, potters and ceramicists were invited in May 2002 to view and appreciate some of the more interesting examples of Prestonpans, and then to re- interpret yesterday's designs.

First prize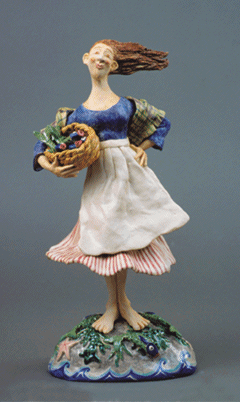 The winner of the £500 prize money in the Professional Category goes to Helen Kemp for her fantastic Dancing Fishwife.


Up to the twentieth century, these ladies were often seen along our coastline making their way from the fishing ports of East Lothian to Edinburgh, laden with either salt or fish to sell to city dwellers. The more resilient also operated a laundry service.

Helen has based her design on the fishwife figurine made famous by Belfield's Pottery presented here to the left. Charles Belfield was familiar with pottery and Prestonpans. Son of a Staffordshire potter, he had managed other Prestonpans potteries before buying premises along the High Street and extending his own operations. Belfield's remains the most technically accomplished of the Prestonpans potteries with a continuous record of family ownership in excess of one hundred years, ending with the death of John Clark Belfield in 1941.

Helen has been asked to reproduce a limited number of her designs and these will be available by mail order from our website and at the Prestoungrange Arts Festival Society's Heritage Centre. That Centre is currently at The Hall, 3 Cockenzie Centre, Edinburgh Road, Cockenzie, East Lothian, EH32 0XL but will shortly move to The Goth on the corner of Prestonpans High Street and Redburn Road.
Second prize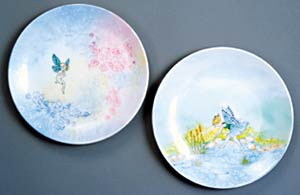 The winner of the £250 prize money in the Recreational Category goes to G.P. Paterson for the magical Pans' Fairies.


In 1772, George Gordon began pottery production at Morison's Haven. Until 1774 Rowland Bagnall managed operations until Gordon personally moved into the pottery with his two sons to produce a wide variety of good quality domestic earthenware. After suffering substantial losses on the collapse of the East Lothian Bank in 1810, Gordon's went into decline and were finally removed from Morison's Haven in 1836 on conclusion of a litigation claim. Gordon's continued at Rope Walk, Kirk Street and Bankfoot until sequestration in 1842.

The Pans' Fairies design is inspired by those of Gordon's Pottery. They specialised in colourful, popular images and frequently featured fantasy figures and mythological characters like the delicately painted china of Pan Fairies. Gordon's imported china clay to specialise in white enamelled and decorated earthenware. Interestingly, the theme of these plates is complementary to the oral tradition in Prestonpans where dull winter evenings were warmed with fireside stories of fairies or the more sinister 'ghostiebeggars'.
Junior prize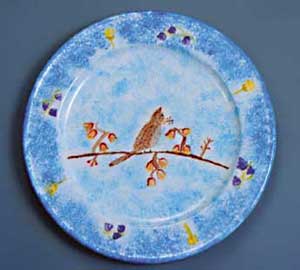 A special Junior Category prize has also gone to Bird on Blue Background by recreational ceramicist, Sammy Armstrong. Sammy is just ten years old and has produced the most charming plate, based on the flora and fauna designs often seen in Prestonpans pottery.


The hand painted design over sponged glaze features the repetitive floral designs on the rim. The colours reflect those of William Littler's West Pans Pottery whose characteristic colour was a deep blue. This effect was achieved by utilising Scottish cobalt from Alva which was refined at the Prestonpans chemical works. Littler's, which operated from 1746-1817, also produced floral and leaf patterns on one-off' pieces which appealed to the aristocracy.

By today's standards, Sammy's ability is quite unique for her age group. In the Prestonpans pottery industry, however, children from ten years old spent alternate days at work and at school before being employed full time at thirteen. As women, they worked in the handlers' shop, making handles or spouts, or pressing clay into moulds and, after firing, painting them.
Everyone's a winner

Entries receiving worthy mention from our judges are to be sincerely congratulated and thanked :

1. Green Frog Planter by Linda Armstrong, Livingston (Professional)
2. Bluebell Plate by Beautiful Ceramics, Livingston (Professional)
3. Autumn Leave Plate by Beautiful Ceramics, Livingston (Professional)
4. Sweetie Dishes by Kinsman-Blake, Smailholm (Professional)
5. Cabbage Leaf Cakestand by Linda Armstrong, Livingston (Professional)
6. Rockingham Teapot by Linda Armstrong, Livingston (Professional)
7. After Dinner Games by Kinsman-Blake, Smailholm (Professional)

JOIN IN

If you would you like to suggest your own subject for our 2003 Prestoungrange New Millennium Pottery Competition … please do. We look forward to receiving you creative ideas at www.prestoungrange.org/e-mail

ARCHIVE

Gain a comprehensive insight into our fascinating pottery heritage at Prestoungrange by visiting our Virtual Pottery Exhibition, click here.

Or take the time to visit the Gone to Pot Exhibition at Prestongrange Industrial Heritage Museum, Morison's Haven, Nr Prestonpans, East Lothian. Tel : 0131 652 2904. Open 11am-4pm daily from April to October. Admission free.