Ely 2004 then Prestonpans 2006 - Venues for the Global Association's 5th and 6th Biennial Global Conferences
Karl Schutz, Founding President & CEO of The Global Association for Arts & Tourism, formally announced the next two venues for its Biennial Conferences at the Closing Dinner in Moose Jaw, Saskatchewan, of the 4th such Conference.

It's to be Ely, Nevada in September 2004 and Prestonpans, East Lothian, Scotland in August 2006. The latter will coincide with the famous Edinburgh Festival and Tattoo.

Prestonpans is pledged not to distract any attention from Ely's Renaissance Society as their great destination gears up. It has so much to offer already and more is afoot of course. Take a look at the Ely website and see the excitement of Locomotive 93 (GO www.nevadanorthernrailway.net) as well as the Murals (GO www.elymurals.com). Start to plan your visit with an appreciation of the Tourism and recreational facilities (GO www.elynevada.net).

Click on the images to enlarge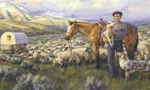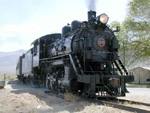 The word is out... start saving up and go to Ely long before you contemplate Scotland. Those who do go to Ely will have a Special Terms Programme in Scotland including a golf option at Muirfield where Tiger Woods shot 81 on the par 70 course in the 2002 Open. Beat Tiger's score (just check out the weather for the day you try) and there's a bottle of the Lowland Glenkinchie Single Malt to be won as lately tasted at Moose Jaw 2002.





Prestonpans sponsors are the Baron Courts of Prestoungrange & Dolphinstoun, who were delighted that their bid was accepted.(GO www.prestoungrange.org). It provides an immediate planning focus for this newest of members in the Global Association as they build on their first suite of murals, their pottery and architectural heritage and their 21st Century artists on canvas.

Both venues are expecting to use the Global Association's Mk 2 Website as a key promotional vehicle (GO www.globalartsandtourism.net).
Published Date: October 20th 2002