Hay & Eden exemplify History and the Arts
Antiquarian Books and Flora Galore

Fascinating as murals may well be there are other connectivities with history and the arts, and to a greater or lesser extent many towns make use of them.

The Kingdom of Hay-on-Wye

It was an unusual man called Richard Booth who brought life and energy back to this declining market town just across the border from England into Wales. He opened a second hand/ antiquarian book shop that today boasts it is the largest in the world. Certainly an extensive selection of Scottish titles was there to be viewed, and some acquired! Self crowned King, there are now some 30 + second hand bookshops in the town with annual Literary Festival. And the infrastructure supporting the visitors year round is healthy in hotels and restaurants. And where bookshops led, antiques shops have followed.

Click on images to enlarge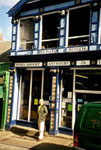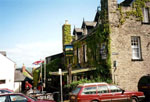 The Eden Project Keeps Blooming

The Millennium Project in a disused china clay pit that is known as The Eden Project has captured national and international attention. In its two great binomes, Tropical and Warm Temperate, the pit has become an exotic garden and forest landscape. Citrus groves, olive groves, rain forests, coffee plantations .... the list is endless. And outdoors on the sloping sides of the access area each season of the year has its own grand displays. The pictures below show just a little of what can be enjoyed by the visitor.

The message for all 'public arts afficionados' is that gardens and forests [with or even without careful interpretation] are public art and have a truly astonishing ability to educate and inspire. And sculpture can be so easily entwined in the landscape.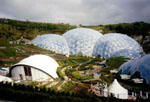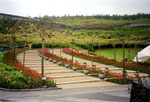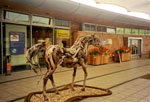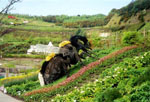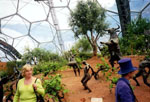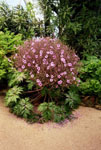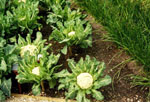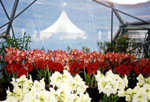 For North American and especially the Canadians members of the Global Association Eden is redolent of Victoria's Butchart Gardens of course, in their former quarry.
Published Date: May 4th 2005