Chemainus Gives Quantitative Easing New Excitement!
Dr. Karl Schutz is supporting the Chemainus Monetary Foundation, that's giving Chemainus its own currency!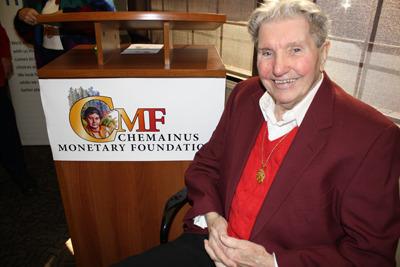 Chemainus will soon have its own currency. The plan, announced March 5, aims to boost local business and grab attention from tourists. Details are given below in an edited report from Canada and the World's Top Murals Destination - by Stephen Thomson of Cowichan News: March 8th 2010:

Dubbed the Chemainus Dollar, the specially designed currency will be accepted at par with the Canadian dollar at the sponsoring Coastal Community Credit Union. It will circulate around town with regular currency and potentially get taken home by tourists as a souvenir.

An unveiling is planned for April 23 and, until then, organizers aren't saying much about what their currency notes will look like. But it was revealed they will be available in the familiar Canadian denominations from $1 to $100 and have several security features. To minimize confusion, Chemainus Dollar notes will also be similar in colour to Canadian bills of equivalent value.

"Our currency will only be accepted in the Chemainus area," said Karl Schutz of the Chemainus Monetary Fund, the group behind the project.

Schutz compared the introduction of a new currency to the town's mural project he helped launch in the 1980s that revitalized the community. But he said there had been much more doubt surrounding the success of the murals!

"We're starting on a much, much better foundation than we did 27 years ago."

Inspired by projects in communities such as Salt Spring Island with its own $$, the Chemainus Dollar initiative has support from the chamber of commerce, business improvement association and North Cowichan Council.

But Schutz said the effort won't get very far without the active participation of local merchants.

"This is a community project and they are part of the community so we hope they embrace 'their' Chemainus Dollar which will support the community in the long run."

North Cowichan Mayor Tom Walker said he is thrilled about Chemainus getting its own currency. He said his Council fully backs the initiative.

"This is another brilliant, brilliant idea and this one I really believe to be a winner," he said. "And I don't say that just because it's a great thing to be able to print your own money," he adds jokingly.
__________________________________________________________

Ed. Looks like another brilliant idea just as the Mayor says. This time it was not Rumanian Nuns who thought of it first, so to speak, but fellow BC residents on Salt Spring Island. But hey, a good idea's a good idea. But browsing the Salt Spring Islands website [linked above] shows just how much care and devotion has to be given to it for it to fly.

P.S. Battle Trustees & Murals Arts Festival supporters in Prestonpans will not have forgotten that Bonnie Prince Charlie also had the same idea in 1745 [LINKED HERE] although he never had the time to issue them. And anyway, with Prestonpans origins in its 'salt pans', what better link could there be!




Published Date: March 9th 2010