Boarding @ Home: Day 16/84: Ro ghlic le leth ... gidheadh cynosure!
Been rebuked; "too clever by half". I wasn't elingued because it was politely delivered with a request for translation of the phrase into Gaelic. I duly obliged - Ro ghlic le leth. The rebuke arose from my submission of 500 words to the Adult Invitation from www.prestonpans275.org to make a cultural contribution; and Beathag had kindly also translated it into Gaelic. Was I hearing scrannels or was there a serious message requiring auscultation as I seek to festinate Project 275, not least with the Clan Chiefs for September 20th. I suspect for Arainn I am beginning to obganiate but for me the Clans that Came Out with The Prince at Prestonpans are numinous and there'll be no palinode proffered. That paragraph is mellifluously presented for PM Boris who habitually used the strangest word or two each week in his Monday features for the Daily Telegraph. I might be too clever by half but Boris has been a cynosure for London for 8 years and for the nation these last 3 years and all here in Milton wish him a speedy victory in his personal fight with Covid 19.
PreOp results go missing but GP takes to the phone Strange letter in the mail from my GP asking me to take my blood pressure at home, phone it in and then have a phone appointment with Dr Taylor asap. Their records indicate I've not been checked up on since early 2019 … which is not actually the case. I've seen my GP about my hip which he got Xrayed last autumn leading on to the cancelled new right hip on March 18th from Mr David Stock. Then my labrynthitis took me to the surgery in January 2020 … but the most intriguing element is the missing PreOp test results from mid February 2020 that cost me £670 and are somewhere or other. I'm on the case and so far have some blood tests ….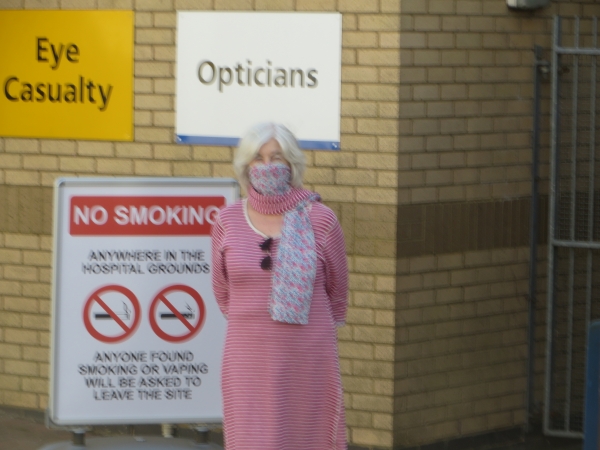 Talking doctors, this afternoon it was off to Northampton General for Avril to get her timeous eye injection for AMD. We don't have any masks at home so she decided on the designer outfit shown above. All went smoothly both on the roads and in the hospital clinic. Seating inside at a distance and out from her 3.20pm appointment by 4.10pm. I remained in the car park with her blue badge reading Ann Cleeves new North Devon detective's first case. I'm of course i/c supper tonight but no ready meals in stock so I shall be working under instruction. Nothing a Sauvie can't see right!
Calum & Michelle at The Prestoungrange Gothenburg get deserved recognition It's an award one's customers nominate you for and to win the Gold Award as an independent pub from Best Bar None is a proper accolade for all they've done since taking over as tenants 18 months ago.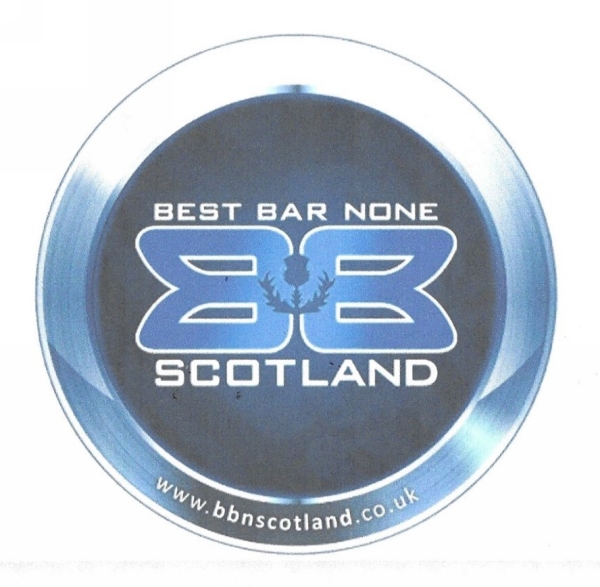 Published Date: April 7th 2020