Boarding @ Home: Day 4/84: 275th Celebrations Film Club Launch
Martha, our PR Lead in Scotland, copied me in. I've no excuse since it's been on the 1745 Facebook Page but I forget to look there and I don't receive a Wake Up Call from there each time … It's a great idea Arran had to offer film clips from the 1745 Trust's archives and Yes, it includes my own humble collaboration way back in 2010 when an Edinburgh volunteer made Stitches for Charlie telling the story of the making of the Prestonpans Tapestry. It features the nostalgia of the Battlebus too.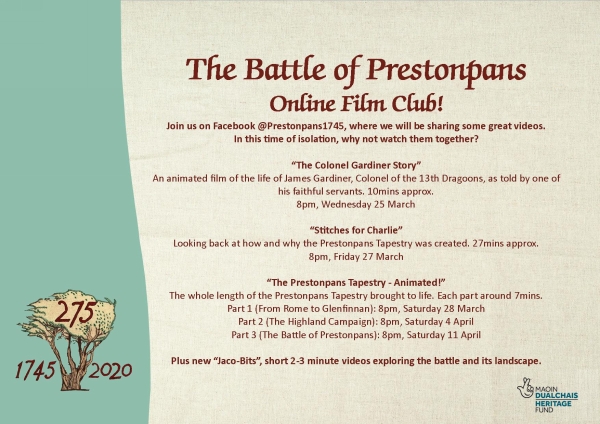 Thoughts turned to learning Gaelic today .. but Duo required me to go Google Crome which messed all my AOL email structures and lost my gmail access... put out a call for Tim to take control and sort it through …

Itching to get on with my digitised Clan Gathering plans for September but awaiting Arran's design for that whole weekend.

Chancellor announced his assistance for self employed today. That set us wondering in Scotland as to how it might facilitate effective postponement and our scheduled spend with contractors for 275. The grants we have from NLHF, Bord na Gaidhlig and VisitScotland Clans Funds are to deliver specific outcomes; if we don't deliver de jure we must return the grants and/or nor receive the balances still due at some £50K. We are certainly designing alternative approaches to celebrations and will without doubt deliver much but it's unlikely to be what we planned in our applications. The NLHF grant is to end December 2021 so ample time to do all manner of things even if we miss the timelines of 2020/ 275. Avril suggests calling it all 2020+1; I counter that Plan Z would get us to 300th anniversary of the battle.

Laura kindly found time and opportunity to do some shopping. In the bag was a treat - mini Baklavas. They wont last long but not something I'd seen before; normally it's oozing honey is it not? Delicious.

Arran wanted to know how many exhibitions and attendances we'd had for the Prestonpans Tapestry since 2010. I promised an answer by Lighting Up Time [Yes; a guy on his bike with a pole lighting the street gas lamps in my youth! And I recall the time to turn on your side lights on your car.] That was relatively easy to find from our esteemed [sometimes maligned] archive. Answer is precisely 41 with over 500,000 visitors plus some 360,000 visits in its first decade … and when we get our Living History Centre we are forecasting 100,000pa … from acorns and a chance trip to Bayeux! For the Scottish Diaspora Tapestry since 2014 including its global tour it's been 46 exhibitions with approaching 300,000 visitors plus 250,000 at the website.



Published Date: March 26th 2020