Longstanding Baron Sergeand
The best way to advance one's career, they say, is to job hop. Well the Baron Sergeand has done that alright over the past 20 years but all within 100 sq yards.

In late 1982 she joined IMC at Hill House, Castle Street, as the first staff member into the association when it launched its own degree programmes using action learning. Within a year she was Office Manager and then responsible for the move across to Marriotts, the restoration of the Revans Workshops and the Old Dairy ... and finally The Coach House, Castle Street where she lived for several years.

She became COO of the entire campus in Buckingham and most recently established the spin out enterprise Marriotts Professional Services Limited with Glynis O'Callaghan ( pictured with Santa Claus ).

Elevation to the office of Baron Sergeand in 2000 has meant she now commutes each month between Buckingham and Prestoungrange. But once known, IMC is never forgotten, and it was fitting that her 20 year gift from colleagues should be presented by IMCA CEO and Principal Dr Richard Teare.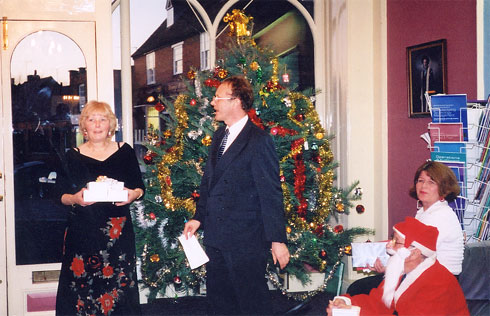 Published Date: December 14th 2002