Canada a Fertile Land for Feudalism? Onwards to November 28th 2004 ...
Canada, at least through the eyes of the Rotary Club of Victoria, BC, was fertile ground for a luncheon speech by Prestoungrange extolling the future virtues of feudalism. The allusions may have been 'foreign' but the substance was only too familiar.

Asked to talk through the origins, benefits and future role for feudalism and feudal values in the next millennium, and preceded by the customary two pipers from the Canadian Scottish Regiment (Princess Mary's), Gordon and Lady Avril joined Meeting 4513 of Club 90 District 5020 on January 16th appropriately enough on board the SS Princess Mary in Victoria Harbour.

Click on image to enlarge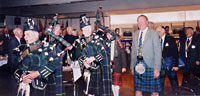 The story from William the Conqueror via the Domesday Book, Magna Carta, Declaration of Abroath, Oliver Crowmwell, the Glorious Revolution, the Boston Tea Party, the French Revolution and the 19th century Land Grants in Canada and Australia right up to the Abolition of Feudal Land Tenure (Scotland) Act 2000 with its Appointed Day on November 28th 2004 .... all was quickly sketched as a basis for the Baron's revisionist and populist as opposed to democratic model for action leadership in a 21st century community.

The work of the Baron Courts in Prestoungrange and Dolphinstoun since 1998, with its special inspiration from Chemainus, was then described as an example of such an approach... with all its latent and potent scope for friction and strife with self-serving elected leaders. The 2nd Battle of Prestonpans is waiting to be fought!

Intellectual it wasn't but more than a few messages struck home, none more so than the notion that index linked pensions for politicians is the secret weapon of democracy in securing transition as between elected leaders with minimal bloodshed.

Concluding, Prestoungrange promised an intellectualised version of the talk well in time for November 28th 2004 and a Feast in Celebration of the Future for Feudalism in Scotland for that date to rival the celebrations arranged in Milton and Hong Kong on the return of that colony to the People's Republic of China in 1997.

John Davidson, a fine tenor, sang Afton Water as a taster for the forthcoming Burns' Supper in Chemainus. John also sang later there on that occasion Allan Neale, Rotary President, was enjoying himself further as pictured below in procession behined the Baron.

Click on image to enlarge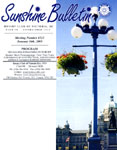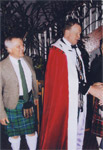 Click here to view the minutes Meeting#4513 January 16th, 2003

HRH Princess Mary was the daughter of HM King George V and Queen Mary who, at age 17 during the First World War, proposed that all men and officers serving in the British Army should receive a Christmas gift from the nation. This included the Canadian Scottish Regiment which was fighting in the trenches and which won three VCs before the war ended. In 1930, HRH Princess Mary became Colonel in Chief of the Regiment which has borne her name from that time.
Published Date: January 16th 2003