Prestonpans Re-enactments at Greenhills: September 19th/ 20th
Can Cope Ever Win?

It's a question often asked by What-if-ers. Many historians are convinced he could have done if only his dragoons had not panicked and his soldiers fled before the Highlanders' charge. And Cope himself wasn't blamed, in fact exonerated, by the subsequent Court of Enquiry.

But that was in 1745 of course ... The poster certainly suggests the Prince will once more craft and celebrate his greatest Victory ....

As importantly, the encampments of Redcoats and Highlanders from 11am to 4.30pm each day have lots to entertain and inform our visitors.

FULL DETAILS HERE

This year, 270 years on, the Alan Breck Regiment once again hosts the annual re-enactments at Greenhills. Don't be confused by the passing Scottish Half-Marathon Runners on Saturday ..... but do be sure to help Tom Ewing as he seeks to capture the battle scene in a new mural-in-a-couple-of-days! He needs the brush strokes ...

Entrance is £3 towards the costs and once again the support of East Lothian Council is greatly appreciated.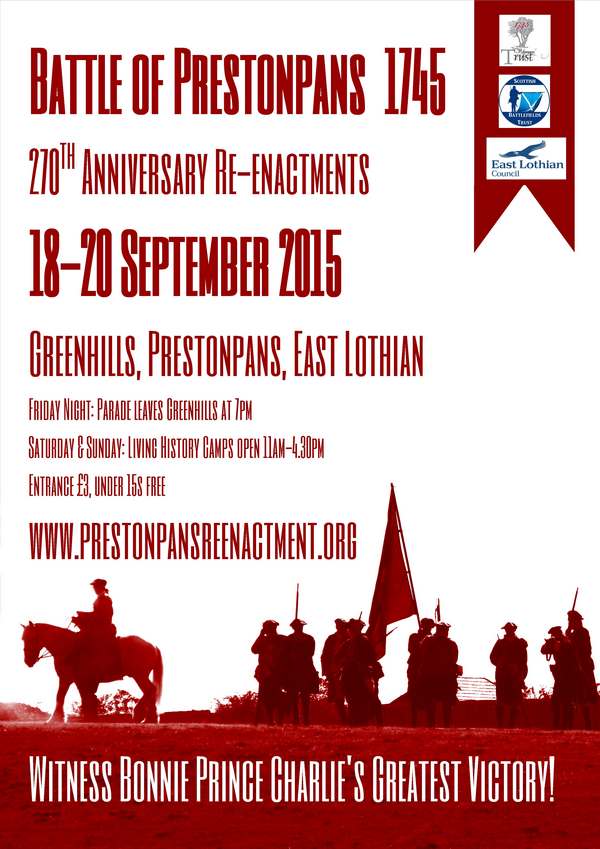 Published Date: September 8th 2015