Yes, it's Right to Buy .. if you can.
It's time for the heavy lifting now




The Coastal Regeneration Alliance has moved on swiftly to seek support for its Charter initiative from local Community Councils - a creative approach already seen in use north of the Forth and the USA.

What the subsequent 'Right to Buy' approach by the CRA's social enterprise will ensure is a legal moratorium and first refusal as buyer if Scottish Power ever resolves to sell off the land it owns at Cockenzie and Prestonpans. If that happens the community has the option to seek to raise the funds to take ownership - in this case of very extensive industrially zoned land.

.. and it seems as though we can assume Althamer would be in favour!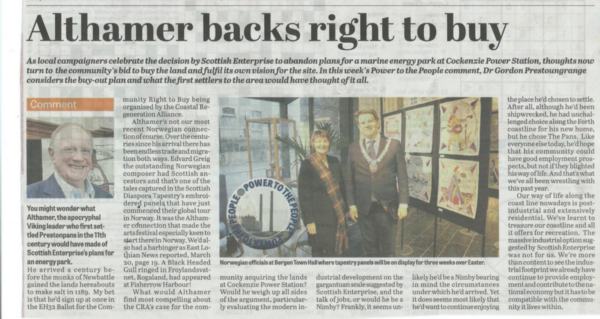 Published Date: April 10th 2015