It was NeverNever Land but at last We Launch GothPoints
The Charity Loyalty Card that Honours 19th Century Moderation ... at least with the Alcohol!

After what seemed like never ending delays with our EPOS technology, we were finally able to launch our GothPoints system of benefits for customers at the Prestoungrange Gothenburg - for those who first become Members of the Charity by contributing at least £1. Many we are grateful to say donate more of course.

Click on images enlarge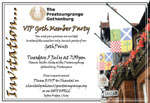 The VIP Invitation above says it all and the 300 + Members who had already signed up and waited patiently were invited along for the Members Only Launch Party on July 5th, which included the Inaugural Members' Draw. The regular fund for the Tuesday Draw for £100 had been topped up for the occasion to £250; and two airline tickets to Gothenburg in Sweden were the consolation prize. Not bad eh. And under the rules the Member had to be present to qualify, and to have spent at least £3 already on non-alcoholic purchases that day.

We are delighted to report that both Draws were successful. What a send off!

The Draw was impeccably conducted by Alex Hodgson and the happy Members were Mr & Mrs Baillie winning £250 and Naomi-Louise Benton winning the tickets to Gothenburg. Chantal Graham, who has been the staff member wrestling for nigh on a year with EPOS and GothPoints was also captured by our photographer, still keeping her profile low, just in case ...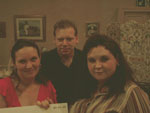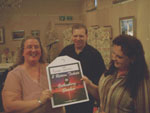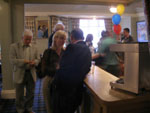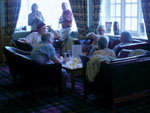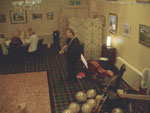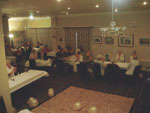 Naomi-Louise are co-traveller, making their way to Gothenburg, Sweden in the coming months are scheduled on their return to tell their tales, as artist Tom Ewing did after he delivered his Painting to the city's Lord Mayor, Jorgen Linder. Watch out for their Big Tell Tall Tale Tuesday [known as the 4Ts - no tease]
Published Date: July 5th 2005