Tapestry Exhibition Opens @ Paxton House plus Kirkcaldy details for May ...
PAXTON HOUSE TAPESTRY EXHIBITION OPENS
April 1st/ 27th [excluding 9th/ 10th] 11 am/ 5 pm daily ..as seen below ...




KIRKCALDY MUSEUM & ART GALLERY May 7th/ June 5th [Monday/ Saturday 10.30 am/ 5 pm; Sunday 2 noon/ 5 pm] Living History with Bonnie Prince Charlie May 14th; Meet the Stitchers May 18th; Guided Talk around the Tapestry June 1st.

click to enlarge and print out details below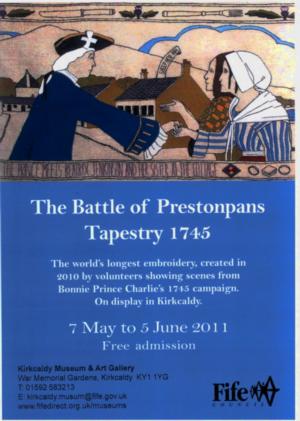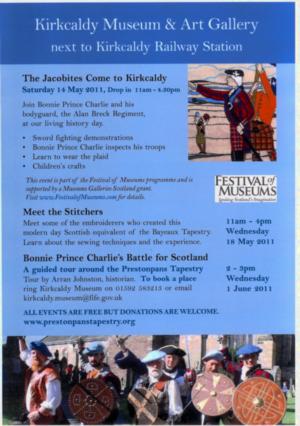 ST MARY'S EPISCOPAL CATHEDRAL EDINBURGH June 11th/ August 31st [Monday/ Saturday 11 am/ 4 pm closed 1pm/ 2pm ; Sunday 12 noon/ 3 pm] There will be many special activities during the 12 weeks particularly a Living History Day on Saturday August 6th.

ST MARY'S PARISH CHURCH HADDINGTON September 12th/ 16th [11 am/ 4 pm daily]

Details of all associated activities will be posted here at the website when confirmed; or contact Arran Johnston as above for details.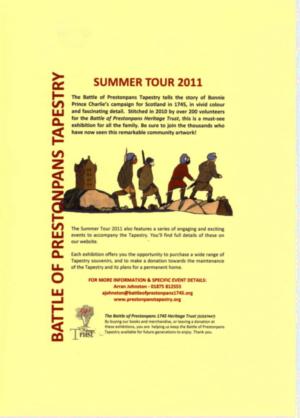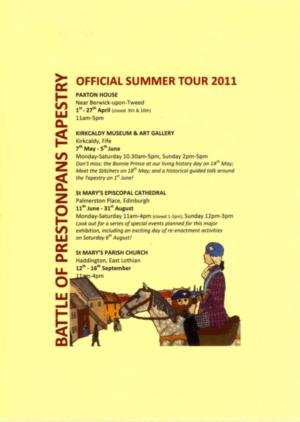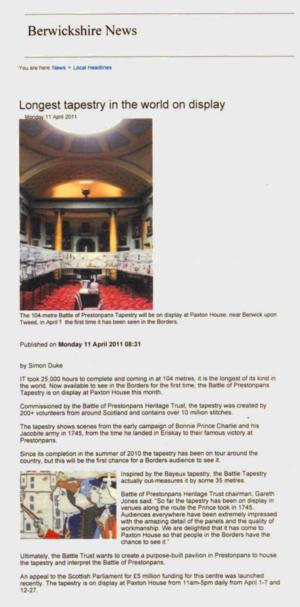 Published Date: April 2nd 2011