Battle of Prestonpans Tapestry displayed @ The Dovecote, Edinburgh
Tapestry makes its first appearance in the capital - at The Dovecote: November 10th/ 25th from 10.30/ 5.30 Tuesdays/ Saturdays only

By popular request, The Battle of Prestonpans Tapestry has now gone on its first display in Edinburgh at the 'home of tapestry' in the capital city - The Dovecote. An admission charge of £3.50 applies [concessions £2.50] which goes towards the eventual permanent home for the artwork in Prestonpans. N.B. The Dovecote is only open Tuesdays/ Saturdays.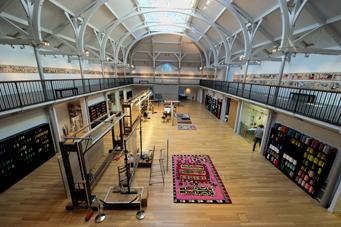 Arran Johnston will give a talk on November 13th on The Battle for Scotland, with Andrew Crummy & Dorie Wilkie discussing the actual design of the embroidery on November 23rd - both 2 pm / 3 pm. Eric Robinson's DVD Stitches for Charlie will also be presented throughout the exhibition in its final cut.

Details of the event at The Dovecot are given below: Click on the images to enlarge and then print out as necessary. Photography Tony Marsh & Andrew Crummy.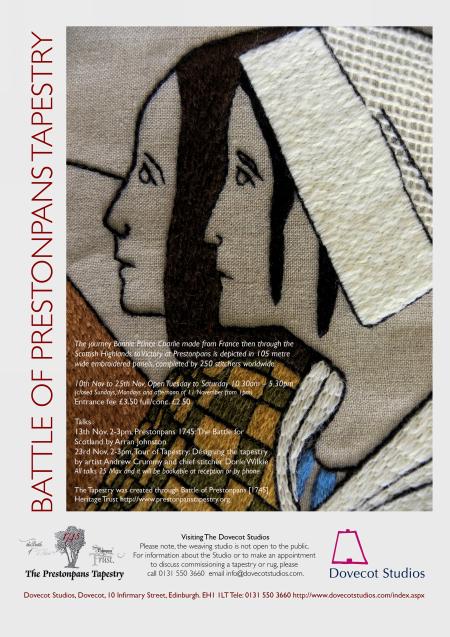 Andrew Crummy's poster design shows Ruth MacAlpine's fine embroidery [Panel # 59] of the two Jenkinson sisters at Duddingston on September 19th 1745, Mary and Beatrix, who later attended Colonel Gardiner on his deathbed at Tranent Manse on the 21st.

The Prestonpans Tapestry as it hangs around the Gallery @ The Dovecote [at the very top] with the weavers' frames below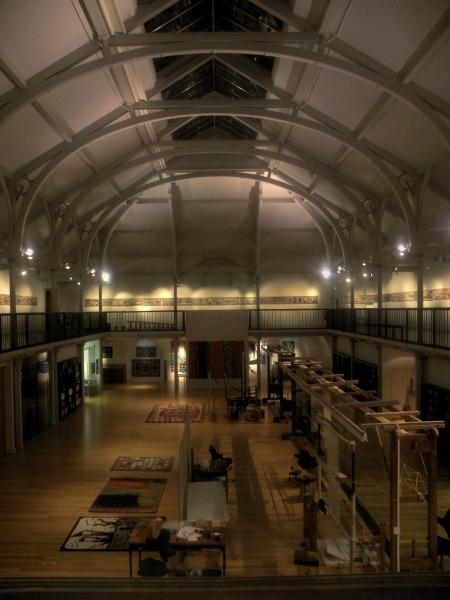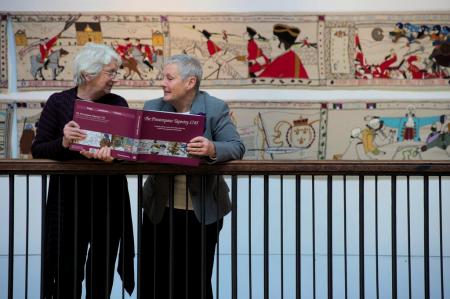 Published Date: November 10th 2010