Bishop Odo Comes Good!
It's admitedly a somewhat obscure reference ...

... but if you know the tale of the Bayeux Tapestry it all makes excellent sense.

Bishop Odo, also Earl of Kent, commissioned the Bayeux Tapestry in agreement with William the Bastard's wife Queen Mathilde, to be displayed in the new Cathedral he was building at Bayeux. Ourselves, we shall premiere The Prestonpans Tapestry on The Prince's Strand at Eriskay on July 31st 2010 .... but after that, and its tour and Parade through the Highlands and Lowlands and the Diaspora ... where then?

Has the answer landed? After discussions with East Lothian Council officers and Councillors, Gareth Bryn-Jones, Vice Chairman of the Battle Trust and himself an architect, offers these early ideas for how the Trust's Living History Centre at the Heritage Museum might well look. Are we seeing the future ....?

... you saw it here first!

Click on the Pavillion for lift off!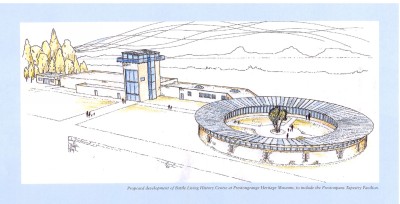 Reservations for The Opening Night at Johnnie Moat's Seafood Restaurant atop the BathHouse Tower will be auctioned in due course .... but just look at that mature Thorntree growing in the centre of the Tapestry Pavilion ... no mortally wounded Colonel to be seen [yet] ....



Published Date: July 15th 2010