Thursday's Blocking Surprises ... it's all in a flash?
The Prince Occupies Falkirk

Frances Gardiner was at the Cockenzie Studio last Thursday to deliver the panel she and colleagues from North Berwick's Halflinbarns Schoolhouse Weaving Group have now completed - the Prince occupying Falkirk unopposed. The very fine horse is an old Scottish/ Irish breed.

click on all images to enlarge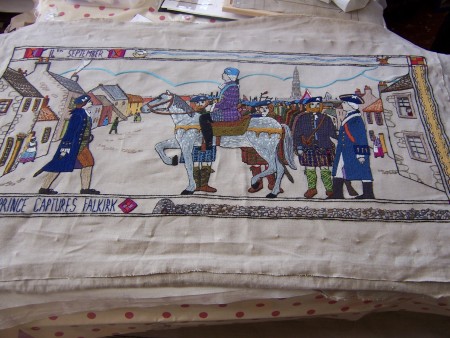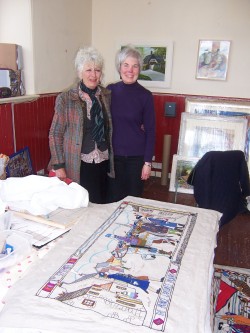 Dorie begins the creation of Tapestry Montage Scenes

Stitchers will be familiar by now with the highlighting of sections of the embroidery for particular attention and indeed appreciation. Dorie Wilkie, Lead Stitcher, cut and pasted these ....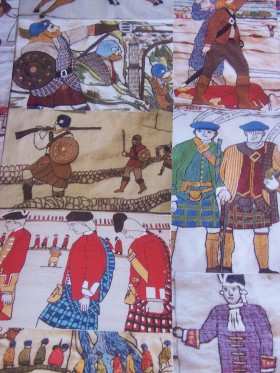 Meanwhile, the first images of blocking going ahead at Cockenzie before each panel is photographed and readied for sewing to its neighbour are shown below:

The reverse images show firstly Cope's arrival at Berwick on Tweed to confirm the news of his defeat to Lord Kerr - as lampooned in 1745 which cartoon was Andrew Crummy's starting point for the total design of our tapestry. The second reverse image is of L'Elisabeth taking 700 French soldiers aboard at La Belle Isle - this ship engaged HMS Lion in battle off The Lizard a few days later and had to turn back from the damages it sustained including the death of its Captain. L' Elisabeth never reached Scotland although du Teillay sailed on to Eriskay.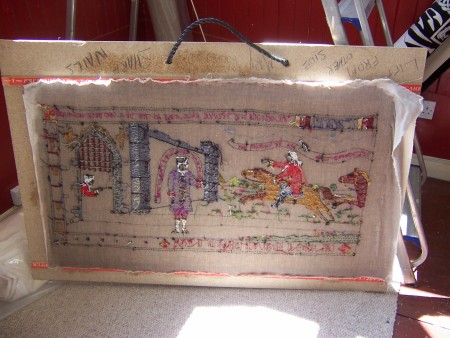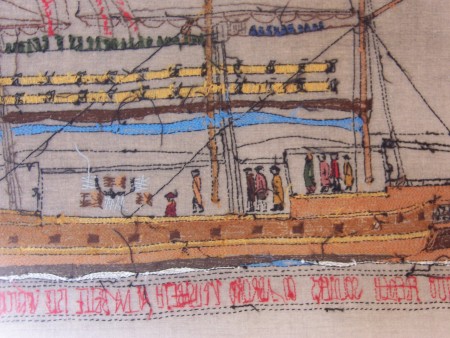 [Ed. Any idea what the hidden message means? LIFE FROM OTHER SIDE ... SHARP NAILS]

As the Highlanders march through heavy rain to Invergarry Castle, lighting flashes ...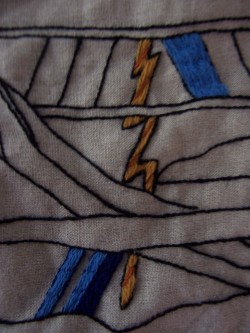 Published Date: June 1st 2010