HRH Prince Charles Edward Lately Seen ...
The Prince Remains Unmoved in Derby

'Tis good to report that the Prince was neither eventually unseated or removed in Derby from the excellent location he has on Derby's Cathedral Square - looking south but with his horse heading north.

click on all images to enlarge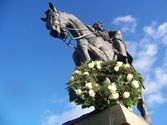 Another Princely image has lately come to eye at the 14th century Sheep Heid Inn at Duddingston, by George R. Milac, which perhaps does less than justice to the Prince, as depicted below, or the morning of September 21st itself when all were surely well away from the ridge at Birsley Brae!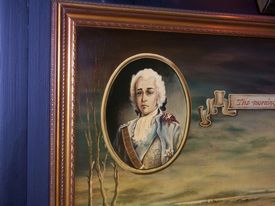 The Sheep Heid Inn at Duddingston, to which we readily presume the Prince and his party adjourned from their Council meeting at the Cottage to take luncheon as their discussions continued, will this year see the Prince's 1745 Council meeting fully re-enacted including that luncheon - on precisely its 263rd anniversary, September 19th. Their Agenda was whether to attack Cope as he lay camped at Prestonpans and if so, how and when.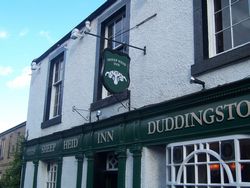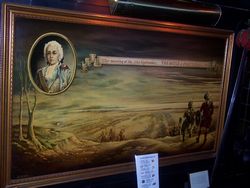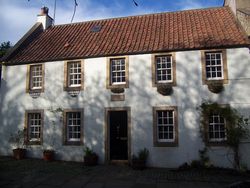 __________________________________________________________
Corrected May 5th 2008 from initial report which quite wrongly also pictured and described the now-shabby figure atop the Glenfinnan Monument as The Prince. As our correspondent kindly pointed out, there is no known statue of The Prince to be found anywhere is Scotland. The figure at Glenfinnan is of an 'unidentified Chief'.

Published Date: May 2nd 2008