Lightning Set to Strike Twice: Karin Duce on the Move
Art and Opals

Karin Duce has the very considerable distinction of being Australia's sole Founder Member of the Global Association from 1998 following the initial international seminar held in Kati Kati, New Zealand. As such, an update on her latest mural painting is always a must, properly linked to her in-house Country Store Murals Café at Mendooran. It is a small village really with only some 400 inhabitants, and an overnight stop at the Royal Hotel with new owners Geoffrey & Kim Johnson was part of the experience; followed by an excellent breakfast at the Murals Café itself.

Click on all images to enlarge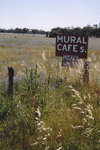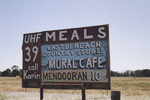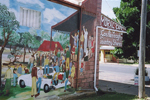 Arriving to visit Karin once again at 8.30 am was also an immediate opportunity to meet her new partner Steven Spence - sharing his second career between arts promotion and opal mining! And it is the latter activity which holds the key to Karin Duce's next artistic steps. The Castlereagh Country Stores and Mural Cafe is up for sale and Karen will very shortly be making her future artistic presence felt from Lightning Ridge. That town is located in Australia's famed outback at the centre of one of the best opal mining areas where she and Steven are already working a claim and building a new art studio. Lightning Ridge is a town with its own sizeable arts community so the 'burden of the single-handed' will be a thing of the past for her.
But if that's a glimpse of the future, what has been happening since October 2001 when this Roving Reporter last visited.

Bus Shelter Symbolism

Walking around town the previous evening the first thing we noticed was that the bus shelter outside the Country Store and Murals Café was just plain deep green. Gone were the flowers that had been so remarkable in 2001. We wondered why that might be; and the answer the following morning was that the local councillors had deemed it inappropriate to paint a mural on its property. They had painted it out. [They are probably unwilling to learn from Seattle Metro in the USA that has painted some 800 bus shelters to magnificent effect!]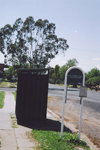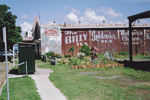 That's not a behaviour which is unknown around the globe. But coming at a time when John Anderson, Gunnedah MP and National Party Leader in Canberra with 8 years as Deputy Prime Minister of Australia, has just visited the Murals Café and autographed the wall it seemed a tad provocative. Tall poppies are a traditional target for Australian nay-sayers, but it still must amaze most visitors when Karin Duce's artistic work has done so very much to put Mendooran on the map via the media.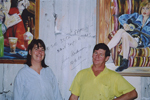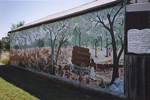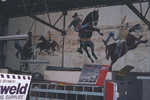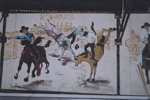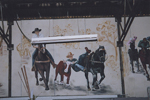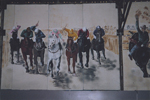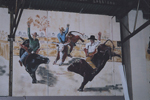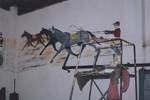 Painting Around the State

In town Karin Duce has over the last three years completed her Goonoo Forest mural and put the final touches in the hardware section to the race meeting in her horse sports scenario [shown above]. But much of her activity has been working out of town as 'KarinD Murals and Designs'. Her website tells more than a little of her work at www.muralmagic.com.au

Nowhere has this been more spectacularly successful that in her nine days painting on five walls x 46 metres mural at Cowra - with a further 6 metres added shortly after. Not only has the mural work been widely acclaimed locally but Karin got most particular enjoyment out of the specification that required her to work with 30 Year 10 students including some disadvantaged lads who rose to the occasion brilliantly. Kristy Koen was the co-ordinator for Cowrashire.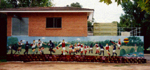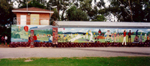 But Karin's enthusiasm for indoor mural work has been continued at Coonabarabran at the Crystal Kingdom Museum of Nola and Wolfgang Bredereck. The museum is greatly enhanced by topographical images above the exhibits from 450 million BC onwards of the very area where the museum is – in the Warrumbungle Range which includes two extinct volcanos. It's a particularly effective way of placing the very wide range of exhibits including Zeolite crystals, fossilised Glossopteris leaves and Bugaldie chalk into context – as shown below.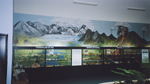 Published Date: November 8th 2004