Deuteronomy 307/84: Scotland's Stuarts take the thrones of England & Ireland
Queen Elizabeth I died on even date in 1603. And at last the Stuarts took the thrones of England and Ireland in addition to Scotland. It was an outcome that had eluded James VI and I's mother Mary Queen of Scots and sometime Queen of France. His wife was Queen Anne - from Denmark. Their marriage, she was just 14, had an inauspicious start by proxy in 1589 with storms preventing Anne from travelling to Scotland. James travelled to Norway to personally marry and bring her back.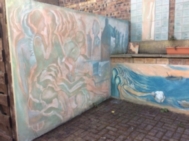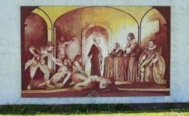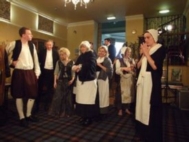 When she finally arrived in 1590 James embarked upon a sustained persecution of witches in Scotland convinced that it was such witches that had created the storms. In 1597 Daemonologie, In Forme of a Dialogue, Divided into three Books: by the High and Mighty Prince, James &c was published. In Prestonpans we have two murals commemorating this period and a memorial to 81 who died in East Lothian and the trilogy of plays by Roy Pugh, not to mention Our Pardon.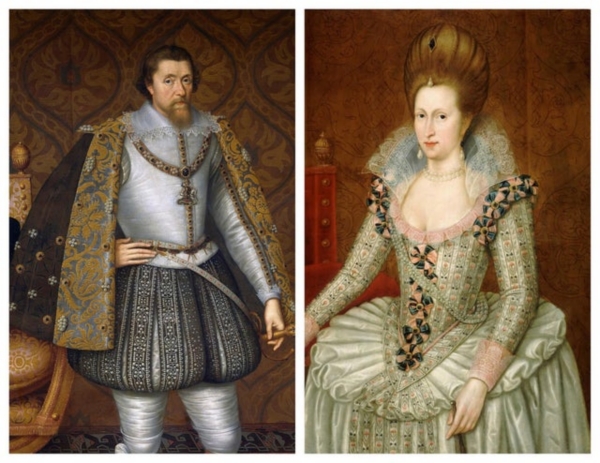 On the thrones in England James and Anne lived an extravagant life style and he convened Parliament only once. But he did ensure the Authorised Version of the Bible was beautifully translated by 47 scholars in between 1604 and 1611; it was the third in the English language replacing those created for Henry VIII and Elizabeth I but was immediately and to this day greatly admired. Their eldest son Henry did not live to succeed leaving that role to his younger brother Charles whose reign ended with his execution, just as Grandmother Mary had died, at the hands of the English.
PSG ZOOM and Calum Miller's Town Hall Project. Got two left field ideas just as we look to stewardship of the 1745 Association's Library. First, news that Prestonpans Library, established under Carnegie's Trust and extended but 10 years ago, is to move its focus to Youth and Children. Second, catch up on the Digital Dream Scheme that Prestonpans Community Council had hoped to float at the Town Hall in 2019 but had not followed through. Suddenly 1+1 = 3. Have I really missed out on the message that libraries as we knew them before the digital age no longer have a daily interactive role? Have not books become artefacts rather than a regular source of information? Certainly these blogs are derived from online searches not scanning books. So that 1745 Library really has a future 'In Stack' mode not open shelf/ browsing access. And the creativity that would have gone into pens on paper now goes into digitisation. Calum suggests that as you enter the Town Hall you should enter an A/V reality of the history it represents, and our 'other' heritage, as well as providing a studio for today's not-to-be authors to create and publish their digital pieces. I reverted to Calum to see whether those dreamers from 2019 are still ready to engage and could they enter a jv with the Battle Trust?
What the Community Council had to say! We should be Reimagining our Town Hall. When we think of our Town Hall, if we think of it at all, we think of: dances, jumble + plant sales, plays, public meetings, lunch clubs, and children's parties. All of these activities have left behind strong collective memories. What we forget are the gaps between those activities and the times our Town Hall has lain empty. Our challenge is to increase the variety, quality and frequency of activities while remaining true to the original purpose and principles. We live in a world today where the social networks that helped us advance are increasingly replaced by the digital variety. We are all engaging more online but the conversations are getting shorter and colder. These conversations would be more positive and productive if we could host them in a social context. What's needed is a Face2FaceBook where the digital world is used to increase the physical interaction. The activities which once occupied our Town Hall are not filling it today, we need to think creatively to both identify new audiences and serve the original purpose. All of the traditional activities can now be accommodated elsewhere in our town, our Town Hall needs to offer something unique to the community: our challenge is to use our assets to create richer social interactions for all.
John Unwin's wondering in Angouleme when these blogs are going to stop …. Frankly we don't know yet. There's an obvious moment on March 29th when we can meet one family outdoors; on April 11th when we can travel and stay in Weymouth; on April 26th when the Gothenburg re-opens outdoors … there's a mixture of roadmaps from England and Scotland and on Third Waves sweeping across the continent … so it doesn't seem quite right to stop just yet … today I'm indexing from Exodus 1/ Blogs 168/84 and upwards …..
Getting ready for March 29th's barbecue! We took our first faltering steps at putting up the Clas Ohlson Gazebo we've brought especially for that occasion and for future outdoor activities. Found it trickier because we're not really agile enough but she'll be right …. The GP's surgery phoned with Avril's second jab date too which gets one more job done on the route back ….. Pamela phoned and wanted to know when she can come to Weymouth with us!

Published Date: March 24th 2021