Numbers 267/84: Chinese New Year & Rogers' Chocolates!
Might be New Year but … Had to rise early since HomeServe had promised to arrive between 8.30am and 12 noon to attend to the leak in the proximity of the hot water boiler in the loft. Good news they came by 10am, a week after their 24 hours service promise, and it was a leaky overflow pipe connection exacerbated probably by cold weather [not the pandemic note!]. Also the boiler was pronounced tip top, 95% efficient and not in need of replacement [yet]. Avril wore her face mask throughout. That did mean of course that the coast was a clear by 11.30am for us to honour Friday Coffee Morning as usual; and the sun shone through the sitting room window. New supply of caramel chocolate coated rice biscuits has also arrived - one cheer for that then! Julian's flooded cellar at The Manor House continues to grab the family headlines as they search for a destination by pipe work for the water that wont let it run back into their water table. The scheme to pump into the Entrance Hall loo ended in unmitigated/ unmentionable disaster and today blue piping now snakes from the front door across to the fields. We've had a call back from sister-in-law Pamela in Oakham who is dropping dress sizes every month but keeps smiling and riding up and down stairs on her chair lift courtesy of the NHS. She still has cordon bleu meals on wheels from Nick and Amanda to sustain her …. there's no escape to Red Listed Portugal to their villa there for a few more months. We're more hopeful Weymouth by Easter ….. although Sarah in #4 continues to have roof leaks one floor above us.
So to the main business - celebrating Chinese New Year. We'd already resolved that Dining In Night this week would be moved from Saturday to Sunday to celebrate Valentine's Day so how to manage the second major festival in just one week? After considerable consultation it was decided that Fish Friday and Chinese New Year would be combined in a Fish Stir Fryday. And as fortune had it the freezer in the garage had a fish pie mix that could be deployed with the Singapore noodles. Armed with our silver handled chop sticks modelled by Avril in New Year Red we dined in good time to watch both Question of Sport and Death in Paradise.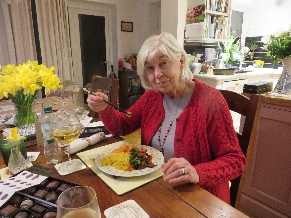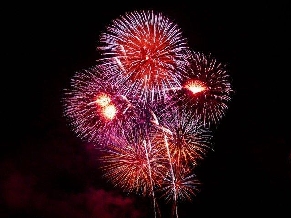 We were perhaps celebrating a day late in The Lodge! New Year's Eve [as in Scotland] is often seen as the most exciting part of the event as anticipation creeps in. Traditions and rituals are very carefully observed - they include cleaning the house, putting up new front door posters to gods and fireworks before the family reunion dinner which should be at least a 10-course meal with a whole fish entrée symbolizing the abundance of the coming year. [We got a fish dish!]. Red decorations are everywhere and Avril's House of Bruar red cardigan successfully warded off all evil spirits. After dinner, the family sits up for the night playing cards, board games or watching TV programmes dedicated to the occasion. At midnight of course the sky outside is lit up by fireworks - pictured above in Glasgow 2021. P.S. As we all know, the Chinese are credited with inventing fireworks long ago and they come with the folk tale about Nian, a monster who was scared away using firecrackers.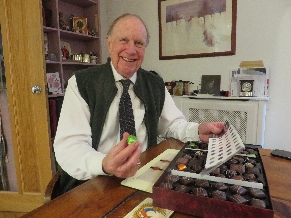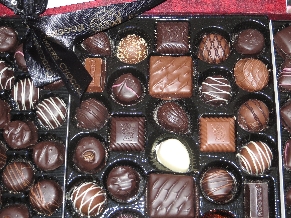 Excellent plans then … but Anne played her Trump card! My birthday present from December 16th was finally delivered. It was a beautiful selection of Victoria BC's finest chocolates from Rogers as illustrated. They provided the dessert and Avril took 2 each across to the flood victims at The Big House to restore morale there. No need for M&Ms just yet then ….
Adapt & Thrive stretches the brain further as we bid to become farmers. We've got my Joint Chairman of the 1745 Battle Trust Herbert Coutts worried on behalf of curators and archaeologists as our second shot at a tender to take a Lease on the battlefield and grow spring barley, bere and Vining peas went in at £10,001. For him it conjures up memories of China's Cultural Revolution or Pol Pot. Marie Sharp at The East Lothian Courier ran the story straight away online as she had the previous week for the Edinburgh Evening News. Jim Meikle is worried that by announcing our bid at £10,001 we will have competitors going for £10,002 … and we might well see that. Then East Lothian Council have to take the decision either to back the heritage on their doorstep in a national Inventoried Battlefield or chase the bigger dollar. In 2019 at the last tender they went for Brussels Sprouts.

Published Date: February 12th 2021