Leviticus 264/84: Denis Gabor and Holography ... with daffodils too and a flood ....
In 1947 Gabor invented holography while working in the development laboratory at industrial company British Thomas-Houston. In recognition of this achievement in 1971 he received the Nobel Prize in Physics. He was born Dénes Gábor [left below] in June 1900 in Budapest then capital of the Kingdom of Hungary. He died in 1979 on even date, February 9th, and my connection was through his brother André, Professor of Economics at the University of Nottingham where I attended his seminars to explore his work on Subjective Pricing in collaboration with Dr Sir Clive Grainger [right below], later Professor of Econometrics and also a Nobel Prize Winner in Economic Sciences. I recalled Andre and my visits from ICI Paints Division where we were busy looking at price setting in our marketing research programmes - 1961-63 - to both Lizzie Healey and now Francesca who both attend[ed] that fine University established by Sir Jesse Boot of Boots The Chemist fame.
What is holography? Well holograms are visible on most credit cards, bank notes, passports, even our own Revans University degree certificates! The highest-quality holograms are available from electron-beam lithography using highly sophisticated micro-optical systems to produce a resolution of 0.1 micrometres which is equal to a phenomenal 254,000 dots per inch. Unique computer algorithms are used to generate the design patterns and that gives great security and makes copying almost impossible.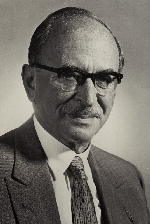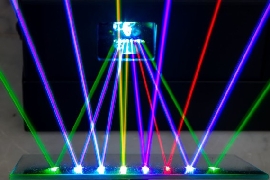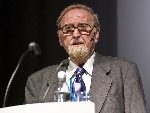 A hologram is a real world recording of an interference pattern which uses diffraction to reproduce a 3D light field, resulting in an image which still has the depth, parallax, and other properties of the original scene. It's a photographic recording of a light field, rather than an image formed by a lens. The holographic medium, for example the object produced by a holographic process i.e. a hologram, is usually unintelligible when viewed under diffuse ambient light. It is an encoding of the light field as an interference pattern of variations in the opacity, density, or surface profile of the photographic medium. When suitably lit, the interference pattern diffracts the light into an accurate reproduction of the original light field, and the objects that were in it exhibit visual depth cues such as parallax and perspective that change realistically with the different angles of viewing. That is, the view of the image from different angles represents the subject viewed from similar angles. In this sense, holograms do not have just the illusion of depth but are truly three-dimensional images.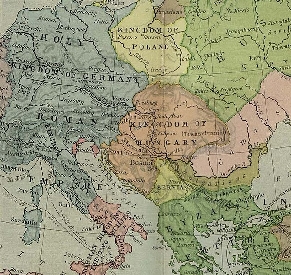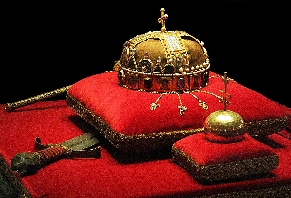 Kingdom of Hungary endured until 1946. As the map above shows the Kingdom had very extensive reach in medieval times and its own unique language shared today with Finland. It lost nearly 75% of its territory after WWI under the Treaty of Trianon with the creation of Romania, Czechoslovakia and what was to become Yugoslavia. Nearly 33% of ethnic Hungarians found that they no longer lived in Hungary with nearly 900,000 living in the new Czechoslovakia, 1.6 million in the Transylvania region of Romania and 420,000 in Serbia. The Crown Jewels survive as shown.
Daffodils and fresh roses. We've made a point of having fresh flowers all the while during lockdown; much of the time the garden gave us plenty to enjoy. However Anne goaded us from Edmonton with talk of Spring flowers and we've seen snow drops and primroses here already - and a lot reported from Ilkley. But my shopping with M&S last week brought home a bundle of daffodils which can be seen below - brilliant. The white roses of York however fared badly and I made a sortie to Tesco early today for the replacement shown.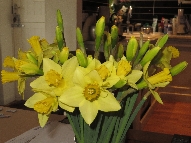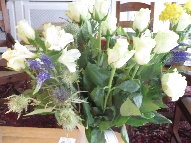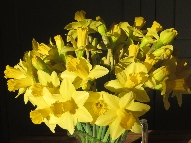 Commotion on Manor House driveway …. … as Julian digs to discover how to pump out his cellar into the main drain! It's a good few years since we had water flowing through but the soil is totally waterlogged now and he's got 4" in the cellar. That's more than we ever saw … here's hoping he can work out where to pump it to .. wish we were more help. Avril had myriad theories about which pipes drain into it from the roof … but we might need to wait for the flood to recede and the dove to bring the olive branch to Noah!




Published Date: February 9th 2021