Leviticus 262/84: Storm Darcy due today .. Beast from the Baltic ...
Vaccinations pass 12,000,000 today … I've been wondering for a good while now whether we should move on from Leviticus to Numbers … in the final 40 days count down to March 22nd making it an entire year gone by albeit a Leap Year endured with just 365 not 366 days [We started after February 29th even though Tokyo postponed the Olympics.] It was bad behaviour that led God to make the Israelites wander for 40 years before reaching the Promised Land as told in the Book of Numbers. It's ironic today that Israel has led the world in securing and administering vaccinations. So, let's do it: February 11th shall be Numbers 266/84.
Storm Darcy. A lot more significant events have shaped the world on this date. But a storm's a storm; and we can't blame the Irish for this name. It was designated by Dutch meteorologists at Koninklijk Nederlands Meteorologisch Instituut(KNMI). They're in a trio with the UK's Met Office and Met Éireann that has agreed a listing of upcoming names which are allocated sequentially when weather warnings reach Amber/ Red. Thus far we've seen nothing in Northamptonshire but the forlorn showing, empty chairs, below although it's true that Kent/ Essex/ Suffolk/ Norfolk are deep in snow. For tonight it's Sunday roast chicken and the welcome weekly call from Edmonton later than usual at 8pm. And of course a chance to catch up on the Wales v Ireland game from Principality Park in Cardiff which Wales took 21-16 - the snow hadn't got that far.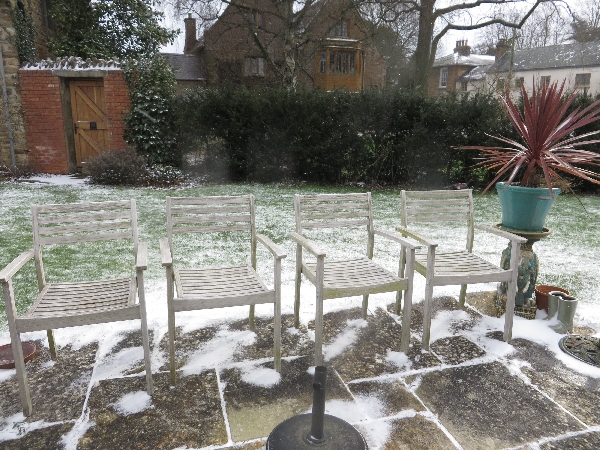 Great Siege of Gibraltar Lifted 1783. The Great Siege was an unsuccessful attempt by Spain and France to capture Gibraltar from the British during the War of the American Revolution. It had been ceded in perpetuity under the Treaty of Utrecht in 1713. In 1779 Spain had entered the war on the side of France and as co-belligerents of the rebellious American colonies and Gibraltar was Spain's primary war aim [still seems to be!] Gibraltar was blockaded from June 1779 although it was ineffectual because two relief convoys entered unmolested in 1780 and again in 1781. That same year a major assault was planned by the Spanish but the Gibraltar garrison sortied out in November and destroyed much of the forward batteries.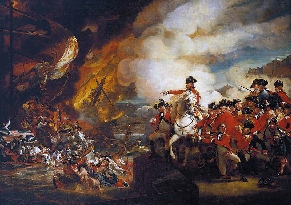 Going nowhere the besiegers were reinforced by French forces and together gathered more guns, ships and troops for a Grand Assault on 18 September 1782 involving 60,000 men, 49 ships of the line and ten specially designed, newly invented floating batteries — all this against 5,000 defenders. The Assault proved a disastrous and humiliating failure resulting in heavy losses for the attackers. The ultimate defeat came with the arrival of a British relief convoy in October 1782 with the siege finally lifted on even date 1783.
Myriad other events to remember. In 1301 Edward I invested his son Edward of Caernarion as the first English Prince of Wales; in 1856 Tasmania's Colonial Parliament introduced the world's first secret ballot in elections; in 1991 the IRA launched a mortar attack on 10 Downing Street during a Cabinet Meeting; and in 1992 UK Prime Minister John Major signed the Treaty of Masstricht establishing the European Union which failed in the UK House of Commons until Major made it a Vote of Confidence. The legacy of that Vote was to create a group of rebel MPs led by Sir William Cash that campaigned endlessly for withdrawal that finally came about on January 31st 2020 after the Referendum triggered by David Cameron and the final Withdrawal Terms agreed under Boris Johnston's leadership. These included the Protocol on Northern Ireland which has become a running sore …..
… and Grenada became independent in 1974. Since then it's had an eventful journey of which the most significant moment was the US airborne invasion Operation Urgent Fury from 25th –29th October 1983 in response to a written request from the Governor-General, Grenadian born Sir Paul Scoon. The US led a coalition of six Eastern Caribbean nations invaded the island nation which resulted in military occupation within a few days. It was triggered by the strife within the People's Revolutionary Government which resulted in the house arrest and execution of the previous leader and second Prime Minister of Grenada Maurice Bishop and the establishment of the Revolutionary Military Council with Hudson Austin as Chairman.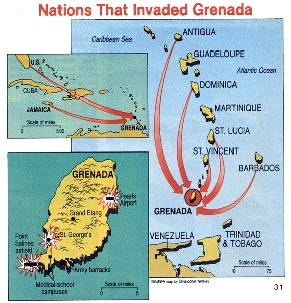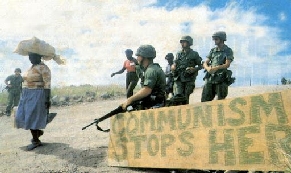 The invasion was followed by democratic elections in 1984 and the country has remained a democratic nation since then. After Grenada had gained independence the Communist New Jewel Movement with support from the USSR and Cuba had seized power in a coup in 1979 under Maurice Bishop suspending the constitution and detaining several political prisoners. In September 1983 an internal power struggle began over Bishop's leadership performance and he was pressured to share power with Deputy Prime Minister Bernard Coard. Bishop initially agreed but later balked and was put under house arrest. When his secret detention became widely known Bishop was freed by an aroused crowd of his supporters and a confrontation ensued between Grenadian soldiers loyal to Coard and civilians supporting Bishop. Shooting started and at least 19 soldiers and civilians were killed on including Bishop, his partner Jacqueline Creft, two other cabinet ministers and two union leaders.



Published Date: February 7th 2021